How to Soundproof Ceilings
Find out how to soundproof ceilings to suit the most common noise problems in domestic properties. How to soundproof a ceiling to meet current Building Regulations Part E.  If you live in a flat, or a property converted to accommodate multiple occupants soundproof ceilings might be your only option when trying to reduce noise. Listening to a teenager playing computer games in there bedroom is not very relaxing after a day at work. Various solutions to increase sound insulation are available depending on the type of noise. Airborne and impact noise are the most common noise problems.
View our complete range of ceiling soundproofing products.
Is it airborne or impact noise?
Airborne Sound – This occurs when a sound transfers directly from a source to the receiver. Small holes or openings in the construction, along duct work, or through ceiling cavities. Airborne noises are conversation, TV noise, music, barking dogs.
Impact Sound – Impact noise is structural vibration, transmitted from a point of impact through a structure. Experienced as radiated sound from a vibrating surface. Commonly caused by an item hitting the floor. From where the impact results in vibrations being transferred through the buildings structure. The most common path for the noise is generally to the ceiling of the lower property or room. Impact noises are footfall, dropping items on the floor, children running.
Soundproof ceilings by insulating the existing cavity
Most properties are built with plasterboard ceilings fixed to wooden joists with floorboards or a chipboard floor laid over the joists, creating a void or cavity. If you are trying to stop airborne sounds transferring through ceilings you should look at insulating the cavity between the ceiling and floor. Ensure new build and converted properties meet  current Building Regulations with acoustic insulation between floor joists. If you are soundproofing existing ceilings and only have access from below you will have to remove the plasterboard.
Ceiling System 1
Use Ceiling System 1 to soundproof ceilings when a high level of sound insulation is required. This system requires a drop in height of approximately 90mm.
Use Ceiling System 1 to stop high levels of sound transfer through your ceilings
Soundproof existing timber construction
Reduce airborne and impact noise
Part e compliant solution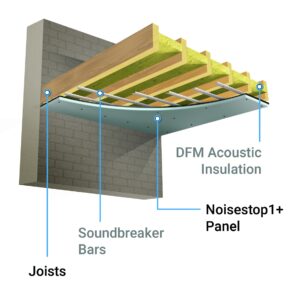 Ceiling System 2
Use Ceiling System 2 to soundproof existing ceilings without loosing  height. This is an ideal solution to soundproof most domestic ceilings.
Ceiling System 2 will reduce high levels of airborne noise
Soundproof existing timber construction
Domestic ceiling soundproofing solution
Part e compliant
Use acoustic insulation inside your voids to reduce airborne sounds
Whether you are insulating existing ceilings or soundproofing a new build use acoustic insulation slabs between the joists to achieve the required levels of noise reduction. Do not use thermal insulation rolls for this as they are low in density which means they will not block and absorb the airborne sounds.
Install DFM acoustic insulation slabs inside the ceilings cavitiy, the slabs are compressed to increase the density of the insulation making them suitable for using as an acoustic infill between the joists. DFM insulation slabs are supplied in 1200mm x 600mm slabs. They range in density from 45kg/m³ up to 140kg/m³. Acoustic slabs are supplied in 25mm, 50mm, 75mm and 100mm thickness.
Soundproof ceilings to achieve better levels of noise control than Building Regulations require
Building Regulations stipulate that the insulation used between separating floors should be 100mm thick and have a density of 45kg/m³. Although using this density of acoustic insulation will help you meet the required Part E levels we would recommend using a higher density for most domestic soundproof solutions. Compliance with regulations does not mean that sound will not transfer between rooms. For a higher level of sound insulation between rooms use the 100mm 80kg/m³ DFM slab, the higher the density the better the sound insulation performance. The level of improvement does diminish with each increase in density, we recommend the 80kg/m³ as it offers good levels of airborne sound insulation compared to the money you spend. Double the density does not equal double the performance, but it will double the cost. For more information on DFM acoustic insulation.
Use acoustic hangers and create separation in the ceilings structure
As part of a soundproof solution creating separation in the construction is vital to increase airborne and impact sound insulation. Build an independent structure below the existing ceiling for the best solution. This type of construction can only be carried out if you have enough height in the room. The ceiling height would drop by approximately 6 inches. Use an acoustic hanger to create the separation if you can not afford to lose this much height.
Attach soundbreaker bars to the underside of the joists at around 350-400mm centres, hang acoustic plasterboard from the bars to reduce sound transmitting through the ceilings structure.
Soundbreaker bars will reduce sound transferring through ceilings
Soundbreaker bars are an acoustic hanger designed to be attached to the underside of the ceiling joists, the unique design of the soundbreaker bars reduces sound transmission through the ceilings structure, reducing impact and airborne sounds. Most new build and conversion projects use this type of acoustic hanger as part of the new separating construction. Plasterboard can be fixed directly onto the bars rather than into the joists. The bars separate the board from the joist and reduce surface area contact, they also absorb vibration reducing airborne and impact sounds transfer.
Use soundproof  panels to block airborne noise
A quick and simple method of soundproofing a ceiling is to increase the mass of the ceilings, if you do not want to remove the plasterboard, or you can't, use a soundproof panel fixed below the existing structure to stop the sound from TVs and conversation. Use the Noisestop Acoustic Panel below your existing ceiling to block normal domestic sounds from transferring into the room, simply screw through the existing boarding into the joists, seal the edges with an acoustic sealant, plaster and decorate. These panels will reduce more noise than standard acoustic plasterboard due to the acoustic layer on the back of the panels which increases the mass of the boards and reduces vibration through the panels, this means less noise will pass through the panel into the room.Increase the level of soundproofing of the NSSC2+ ceiling panels by installing them with soundbreaker bars.
A normal ceiling construction to comply with the current regulations would include the following materials.
Acoustic insulation 100mm45kg/m³
12.5mm acoustic plasterboard (two layers)
In order to comply with regulation Part E you will have to pass a sound test which will include an airborne test and an impact test, for more information on these levels, click here. Combine these materials with a suitable flooring solution laid onto the floors, use a floating floor, or an acoustic underlay mat over the floor. This method will reduce impact noise through the floor.
An independent ceiling solution to reduce high levels of sound transfer
Independent ceilings offer the best levels of soundproofing when trying to reduce noise transfer, or to comply with Building Regulations. Installing independent ceilings will drop the height by a minimum of 6 inches.
By installing   new ceilings with no connection to the existing means sound can not easily transfer between the two structures, greatly reducing airborne and impact sound. Install new joists for this type of solution, this should be carried out by a suitable trade's person. For this type of construction you do not need to use the soundbreaker bars as the separation has already been created with the new joists.
Domestic solutions for ceilings
The most common methods for soundproofing an existing ceiling involves removing the existing or soundproofing below the plasterboard. We provide domestic solutions to suit the different requirements for each individual situation.
Each of these solutions is designed to suit the individual requirements of the rooms and the type of sound you are trying to reduce. System 1 requires the removal of the existing ceiling. Overall drop in ceiling height is around 80mm. This system offers excellent levels of noise reduction in most domestic situations. System 2 is our most popular ceiling solution as it offers good levels of sound reduction. Remove the existing ceiling to keep loss of space to a minimum. Use Ceiling System 3 to reduce airborne sound transfer between ceilings, if you can not remove the existing ceiling. Use Ceiling System 3 below existing ceilings. The drop in ceiling height is 33mm. For more information on these ceiling systems and other ceiling soundproofing products, click here.
For enquiries please call 01423 339163, or send us a message via our contacts page. FREE Nationwide delivery on orders over £750 ex.VAT