How to soundproof floors
Noisestop Systems range of floor soundproofing products will help you reduce airborne and impact noise between floors. Find out which materials will work for soundproofing for timber and concrete floors. This article will explain how to soundproof a floor, if you are a homeowner or an experienced developer.
What type of floor are you soundproofing?
The two main construction types timber joists and floorboards, or concrete floors. Floors constructed from concrete will have a high level of mass, this means airborne sounds (conversation, television) will be blocked, but impact sound (footfall, moving furniture) will transfer to the room below. If your floor is timber joist and floorboard both impact and airborne sounds can be a problem.
Noisestop F7
Soundproof your floors with the Noisestop F7 mats. Quickly and easily upgrade your floors with this 10mm acoustic underlay. A combination of two layers of 2.5mm mass loaded vinyl with an acoustic grade foam centre, an ideal combination for reducing airborne and impact noise.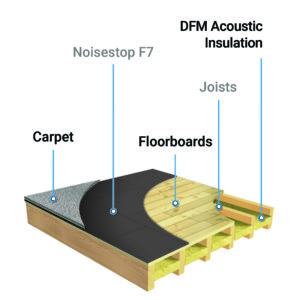 What should I use to soundproof my wooden floor?
To stop impact noise through this type of floor you will need to lay either an acoustic mat, or a floating floor. These types of products are designed to absorb the impact before it gets into the structure of the floor.
Our range of floor soundproofing mats the Noisestop F7 and the Noisestop F7+ are laid directly over floorboards. The Noisestop F7 is used predominantly underneath carpets, the Noisestop F7+ is best for use with hard floor finishes, engineered flooring, laminates etc. These products can be used to ensure your floors comply with current Building Regulations for separating floors.
Noisestop F7+
The Noisestop F7+ is suited for use below hard floor finishes, engineered flooring and tiles. You would expect this type of floor to generate more impact sound, the Noisestop F7+ offers a higher level of sound reduction for impact noise compared to the Noisestop F7. The F7+ is made up of a 5mm mass loaded centre with a layer of 5mm acoustic foam either side, the result of this combination offers floors extra protection against impact noise.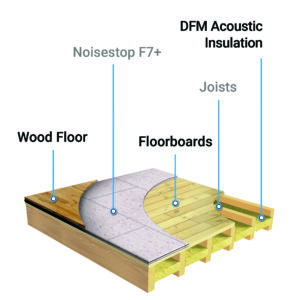 Stop airborne sounds between wooden floors
If you are looking to stop airborne sounds through a wooden floor you will need to consider insulating the gap between the floor and ceiling between the floor joists. DFM acoustic insulation between floor joists is the best way of reducing airborne sound between floors. We recommend using 100mm of insulation and a density of between 60kg-80kg for optimum results.
If you don't want to lift floorboards an alternative method would be to lay Noisestop Barrier Shield over the floor. A high density mass loaded vinyl sheet that will reduce airborne sounds. These mats are quick and easy to lay and are a good alternative if you can't lift floorboards.
Floating floors are used as either a direct to joist solution or on top of the existing flooring. This type of solution is used in new build and conversion developments, studios and home owners looking for extra levels of soundproofing. We provide three types of floating floor solutions in the Noisedeck range, Noisedeck 27, Noisedeck 32 and Noisedeck 36. The Noisedeck 27 can be laid over existing floors, the Noisedeck 32 and 36 can be laid direct to joist or over the existing floor. The Noisedeck boards will meet current Building Regulations for floors.
What should I use to soundproof a concrete floor?
As we mentioned earlier concrete floors have a good level of mass so airborne sounds are not normally a problem. Because impact sounds will still transmit through concrete you will need to put soundproofing over the floor to absorb the impact at the source.
As with the wooden floors the acoustic mats Noisestop F7 and F7+ can be laid over concrete floors to reduce impact sound. The Noisedeck range of floating floors can also be used directly on to the floor.
For enquiries please call 01423 339163, or send us a message via our contacts page.
Related Products