Guide to Installing Ceiling System 2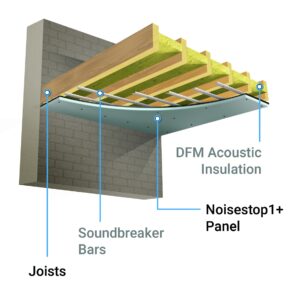 Ceiling preparation
Before work can commence on installing Ceiling System 2, the existing plasterboard must be removed. Once the ceiling has been removed, you will be left with exposed ceiling joists. You are now ready to fit Ceiling System 2.
Step 1.
Infill the existing ceiling joists with the 100mm acoustic insulation slabs between the ceiling joists. Using a long serrated knife or an old bread knife to cut the insulation slabs slightly larger than the opening between the joists will allow you to push the slabs between the joists to friction fit in place. Cover the whole ceiling area, ensuring no gaps are left between the insulation and between the insulation and the joists.
Step 2.
Fit the soundbreaker bars to the underside of the ceiling joists at 300-350mm centres. Screw the soundbreaker bars into the joists using the pre-drilled holes that run along the edge of the bars; use drywall or universal screws for this. The wider corrugated section o the bars should be facing down into the room when they are attached.
Step 3.
Fit the soundproof panels to the soundbreaker bars using drywall or universal screws. The panels are fixed into the bars by screwing them into the corrugated section of the soundbreaker bar. You will not need to pre-drill any holes to fasten the boarding in place. You should have four bars per board to fix into. When you fit each board, ensure they are tightly butted together, apply a bead of acoustic sealant along the edge of the boards to ensure they are acoustically sealed. You can also apply
sealant once you have installed all of the boards around the perimeter of the ceiling and between the edges of the panels to fill any small holes that might be left.
Allow a small gap around the edge of the ceiling, between the panels and the walls. This will reduce sound vibration through the walls and ceilings. Use the acoustic sealant to fill around the edge of the ceiling.
Step 4.
Finish off your ceiling with either a plaster skim or taping and filling the tapered edge of the panels.
The following products are supplied with this soundproofing system:
For enquiries, please call 01423 339163, or send us a message via our contacts page.