Description
Noisedeck 32 is an acoustic floating floor that reduces sound transmission between floors. Install Noisedeck 32 directly over timber floor joists. Noisedeck 32 floating floor sound insulation system comprises a 22mm V313 P5 moisture-resistant chipboard bonded to a 10mm layer of recycled PET mat.
Noisedeck 32 will comply with current Building Regulation Part E requirements when used with a suitable separating build up.
Install directly onto floor joists or over existing flooring
Supports floor loading of 2kN
Suitable for new build and conversions
Use on timber floors
Compliant to Robust details EFC-1, EFC-2 and EFS-1
Part E compliant when installed with a suitable separating ceiling structure
Product Data
2400mm x 600mm x 32mm
Weight 23kg
22mm moisture-resistant chipboard

10mm layer of recycled PET mat

Performance

Airborne sound 46dB
Impact sound 55dB
Noisedeck 32 Acoustic Board Benefits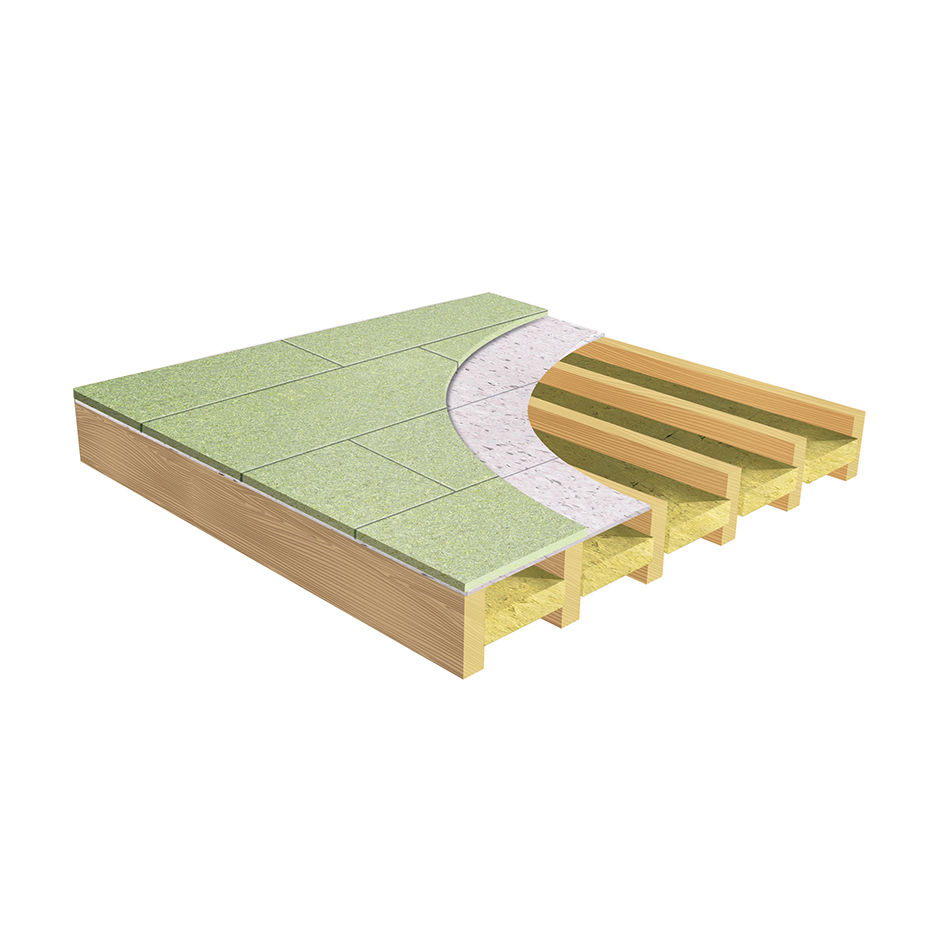 Fitting Noisedeck 32
Ensure the sub-floor is suitably even, clean and dry to allow the Noisedeck 32 to be laid flat.
You should install perimeter isolation tapes on the edges of the walls to isolate the boards from the walls.
Commence the flooring installation from the furthest point from the entrance and try to avoid off-cuts of less than 200mm.
Noisedeck 32 is laid in a broken brick bond pattern with the tongue and groove edges glued together. Avoid mechanical fixings into the joist.
Building Stud Walls
You should install stud walls before laying the Noisedeck 32 floating floor sound insulation system. Building partition walls before installing floating floors will reduce flanking sound transmission. Isolating the flooring from stud partition walls and structural walls will ensure the soundproofing integrity of the separating floor and the walls. We recommend stud walls are built on top of the floor joists and isolated as much as possible. Additional support noggins between the floor joists may be required if you are building stud partition walls directly onto the Noisedeck 32.
It is recommended that you isolate stud walls from the Noisedeck using Isolation Strips below the footer of the stud frame.
Skirting Boards and Architraves
Reduce flanking sound by isolating skirting boards and architraves from the flooring. Roll the isolation strip over the flooring and place the skirting board on top. Trim excess tape with a sharp knife. Leave a 2-3mm gap between architraves and the surface of the floor.
Kitchens and Bathrooms
You can use this floating floor sound insulation system in kitchens and bathrooms. Use support noggins between the joists to support the flooring in higher load areas.
Noisedeck 32 Direct to Joist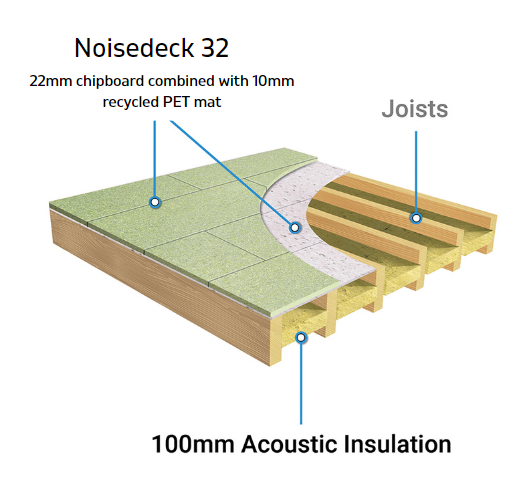 Separating Ceiling to Meet Part E Building Regulations
Comply with Part E Building Regulations by installing the Noisedeck 32 using the following ceiling construction method. This floating floor sound insulation system is suitable for timber ceilings.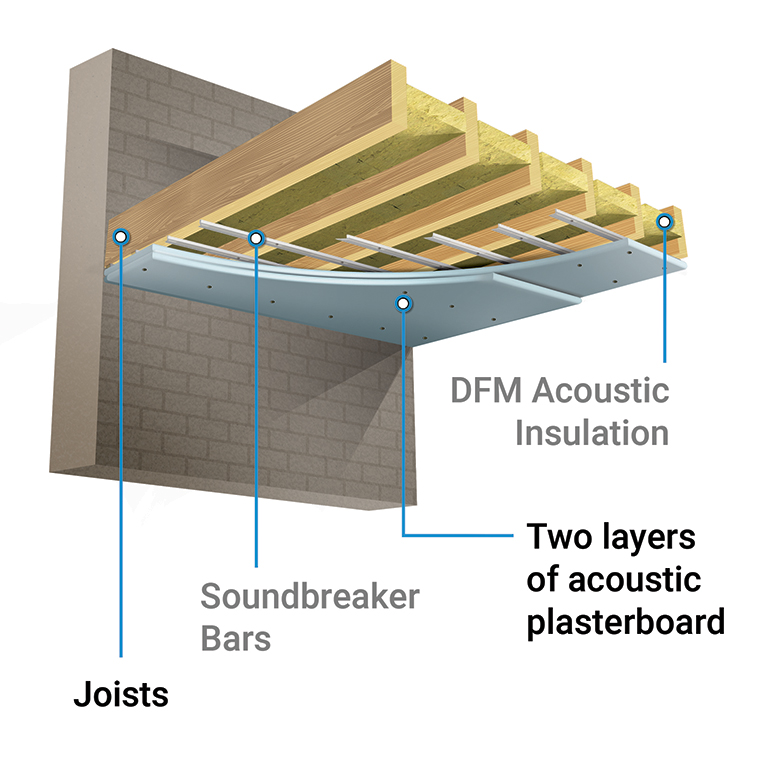 Noisedeck 32 System Products
Floor and Ceiling Soundproofing
Make sure you are getting the right soundproofing for your needs. Understanding the most common types of noise and how to stop them will help you decide the right floating floor sound insulation solution.
Different Types of Sound
Airborne sounds – Conversation, TV noise and radios are examples of airborne sound. The best way to stop airborne sounds is to add mass/density to the walls or ceilings.
Impact/vibration sounds – Footfall and moving furniture across a floor are examples of impact sounds. The best way to reduce these sounds is to create separation.
In summary, the best way to reduce airborne sounds is by increasing the mass of the area you would like to soundproof. Reducing impact/vibration sounds is achieved by creating separation within the structure.
Reducing Impact and Airborne Sounds
By following some of these steps, you will ensure you get the best level of soundproofing for your room.
Mass/Density – Increasing the mass and density of the area you are soundproofing will block airborne sounds from transferring between rooms. You will increase the mass of walls and ceilings using materials such as soundproof panels or high-density acoustic insulation slabs.
Separation – Incorporating separation within the structure will reduce vibration and impact sounds transferring between rooms. Achieve separation by building independent stud walls and ceilings. If you don't have the space in the room, you can use acoustic clips and resilient channels to decouple the wall and ceiling.
Absorption – Use materials that are going to absorb sounds. Acoustic insulation is suitable for sound absorption as it converts the sound waves into heat as it passes through the insulation. Dense mass loaded barriers will also dampen and absorb sound. Use acoustic underlays or floating floors to absorb footfall through timber and concrete flooring.
For help and advice on your floating floor sound insulation, get in touch. Speak to an adviser by calling 01423 339163. Alternatively, please send us your enquiry.