Description
Noisedeck 36 is an acoustic floating floor that reduces the transmission of sound between floors. Use Noisedeck 36 over an existing sub-floor, alternatively lay as a direct to joist solution. Noisedeck 36 comprises an 22mm moisture resistant interlocking chipboard bonded to a layer of reconstituted 14mm, 9lb chip foam.
Install as a floating floor over most floor substrates including, interlocking chipboard, floor boards and ply-wood sheet. Alternatively this solution can be laid directly on to existing joists. Noisedeck 36 will comply with current building Regulation Part E requirements when it is used in conjunction with a suitable separating build up.
Use this type of flooring to reduce impact sound transfer in rooms that require floor isolation. Floating floors are used in studios and cinema rooms to reduce sound transfer between rooms.
Features & Benefits
Install over existing flooring
Supports floor loading of 2kN
Suitable for new build and conversions
Use on timber and concrete floors
Compliant to Robust details EFC-1, EFC-2 and EFS-1
Part E compliant when installed with a suitable
Separating ceiling structure
Product Data
2400mm x 600mm x 36mm
Weight 29kg
20 kg/m²
18mm moisture resistant chipboard
14mm 9lb chip foam
Acoustic Performance
L'nT,w

Impact Sound

DnT,w + Ctr

Airborne Sound

51
46
Part E Requirements
To ensure you meet Part E requirements using this solution ensure the following guidance is followed for the ceiling.
Install acoustic insulation between the ceiling joists 100mm/45kg/m³
Fix soundbreaker bars to the underside of the ceiling joists
Two layers of acoustic plasterboard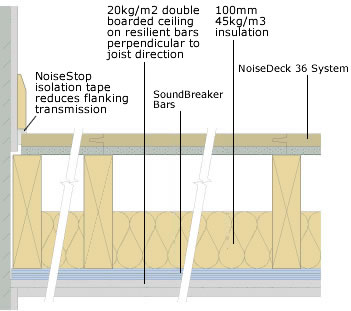 Installation
Install perimeter isolation tapes around the walls that the flooring is being laid.
Lay Noisedeck 36 over the sub-floor perpendicular to the floor joists, butting the edges tight to the isolation tape.
Apply a wood glue to each tongue and groove edge. A PVA wood glue would be suitable.
Lay the Noisedeck 36 over the existing floor in a broken bond pattern, applying the PVA wood glue to all tongue and groove joints.
To comply with Building Regulations, you will need to install an appropriate ceiling below.
Ensure internal partitions are already installed. Kitchens and bathrooms should be built on to a sub-floor.
Acoustic Modelling
Noisestop Systems provide acoustic modelling to help design and plan your soundproofing solution. Our acoustic modelling allows us to help you plan how to best soundproof a room. Whether you are looking to soundproof one wall against a noisy neighbour, building a studio or planning for a building Regulation project, get in touch to see how we can help.
We provide homeowners, architects, builders and specifiers with visual and technical information to ensure your soundproofing project meets your requirements.
For more information on this free service call 014213 339163, alternatively send us an enquiry.
Noisestop Range
The Noisestop range of products have been fitted into homes and businesses across the UK for more than twenty years. In that time we have been able to develop the Noisestop range of products to ensure the very best levels of soundproofing to restore peace and quiet at work and in your homes.
Using our extensive knowledge of the soundproof and acoustic industry we have been able to develop products to soundproof walls, floors and ceilings that are both affordable and more importantly good at what they do. All the products we supply have been tried and tested in real life situations in homes and businesses, so we know they work in real life situations, not just in a lab.
From our base in Yorkshire we are well placed to deliver your soundproofing requirements throughout the UK. We send all our soundproof products direct so we have full control over all the products that leave our warehouse.
Our team are ready and willing in assisting you with any enquiries relating to products in the Noisestop range. Whether you are unsure about a product, or you don't know which solution to choose, don't worry we have had many years of experience which we can share with you to help solve any noise related issue.
you can contact us through our contacts page and send us an enquiry, alternatively give us a call on 01423 339163.