Description
Noisedeck 36 is an acoustic floating floor that reduces the transmission of sound between floors. Noisedeck 36 comprises a 22mm moisture-resistant interlocking chipboard bonded to a reconstituted 14mm, 9lb chip foam layer.
Install as a floating floor over most floor substrates including, interlocking chipboard, floorboards and ply-wood sheet. Alternatively, this solution can be laid directly on existing joists. Noisedeck 36 will comply with current Building Regulation Part E requirements when used in conjunction with a suitable separating build up.
Use this type of flooring to reduce impact sound transfer in rooms that require floor isolation. Floating floors are used in studios and cinema rooms to reduce sound transfer between rooms.
Features & Benefits
Install over existing flooring
Supports floor loading of 2kN
Suitable for new build and conversions
Use on timber and concrete floors
Compliant to Robust details EFC-1, EFC-2 and EFS-1
Part E compliant when installed with a suitable
Separating ceiling structure
Product Data
2400mm x 600mm x 36mm
Weight 29kg
20 kg/m²
18mm moisture resistant chipboard
14mm 9lb chip foam
Acoustic Performance
L'nT,w

Impact Sound

DnT,w + Ctr

Airborne Sound

55
48
Part E Requirements
Install acoustic insulation between the ceiling joists 100mm/45kg/m³
Fix soundbreaker bars to the underside of the ceiling joists
Two layers of acoustic plasterboard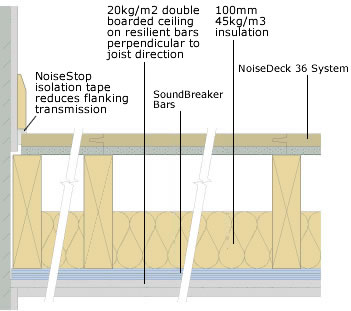 Noisedeck 36 Installation
Install perimeter isolation tapes around the walls that the flooring is being laid.
Lay Noisedeck 36 over the sub-floor perpendicular to the floor joists, butting the edges tight to the isolation tape.
Apply wood glue to each tongue and groove edge. A PVA wood glue would be suitable.
Lay the Noisedeck 36 over the existing floor in a broken bond pattern, applying the PVA wood glue to all tongue and groove joints.
To comply with Building Regulations, you will need to install an appropriate ceiling below.
Ensure internal partitions are already installed. Kitchens and bathrooms should be built onto a sub-floor.
Building Regulation requirements require this type of ceiling build-up for timber separating floors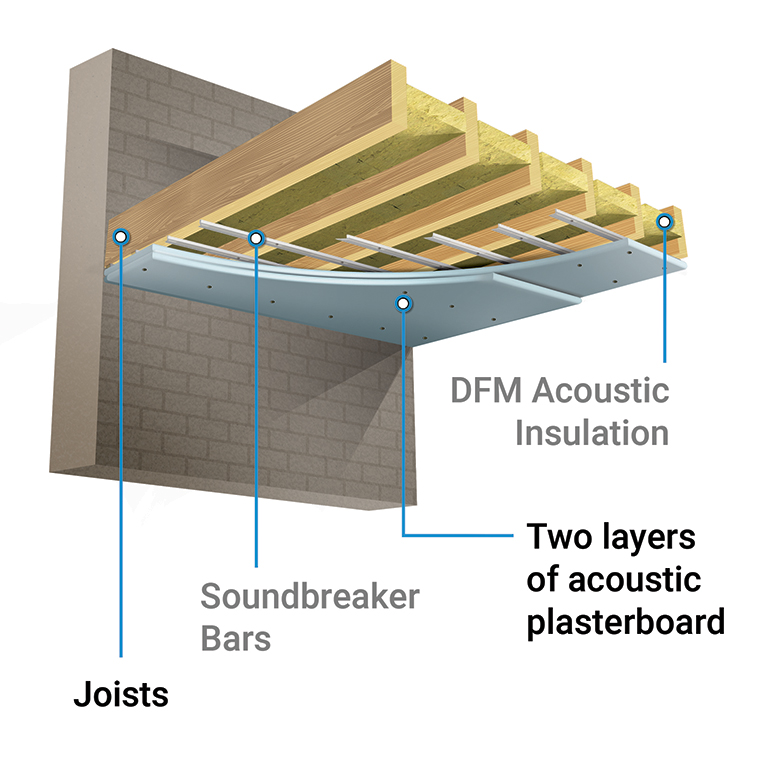 Click on the images to download the information