Description
Noisestop F7
Noisestop F7 combines three layers of acoustic materials. A layer of 2.5mm mass loaded vinyl 5kg/m², a layer of 5mmm class 'o' acoustic grade foam and a layer of 2.5mm mass loaded vinyl 5kg/m². The combination of materials will ensure your floors will benefit from both impact and airborne noise protection. Noisestop F7 is suitable for use over timber and concrete floors.
10mm x 1200mm x 1200mm (1.44m²)
Reduces airborne noise
Reduces impact noise
Part 'e' compliant
Used over timber and concrete floors
Acoustic Performance
Noisestop F7 will ensure your floors meet current Part 'e' Building Regulation guidelines. To complete you installation use DFM acoustic insulation, Soundbreaker Bars and two layers of acoustic plasterboard.
Building Regulations require impact levels to be below the stated figure and the airborne levels to be above the figure stated.
Noisestop F7 Performance
Impact 

56dB – Part E requires below 62dB


Airborne 

52dB – Part E requires above 42dB

Stated figures are with a typical part 'e' compliant ceiling installed below. For higher levels of soundproofing use Ceiling System 2.
Fitting the Noisestop F7
Noisestop F7 is simple to install in your home. You will only need a sharp knife or heavy duty scissors. Once you have checked the floor is in good condition, seal any gaps with AC50 acoustic sealant. Loose lay the Noisestop F7 over the floor in a brick bond pattern. There is no requirement to glue this product down, unless you are complying with Part 'e'. If you are working with Building Regulations use a floor grade adhesive. To cut the material to shape use a sharp knife or heavy duty scissors.
Using Noisestop F7 below carpet
We recommend that this acoustic mat is used below carpeted floors. The Noisestop F7 can be used with or without a carpet underlay. You will need to use the perimeter strips around the edge of the room below the gripper rods if you are using carpet underlay. The strips will ensure the gripper rods are at the correct height for the carpet.
Use Noisestop F7 and DFM Acoustic Insulation on Timber Floors
If you are soundproofing a timber floor you can increase the airborne soundproofing by using 100mm DFM acoustic insulation. We recommend the DFM 100mm/80kg/m³ for optimum soundproofing. If you are soundproofing a separating floor for Part 'e' acoustic insulation should be used between the floor joists, the minimum requirement is 100mm/45kg/m³.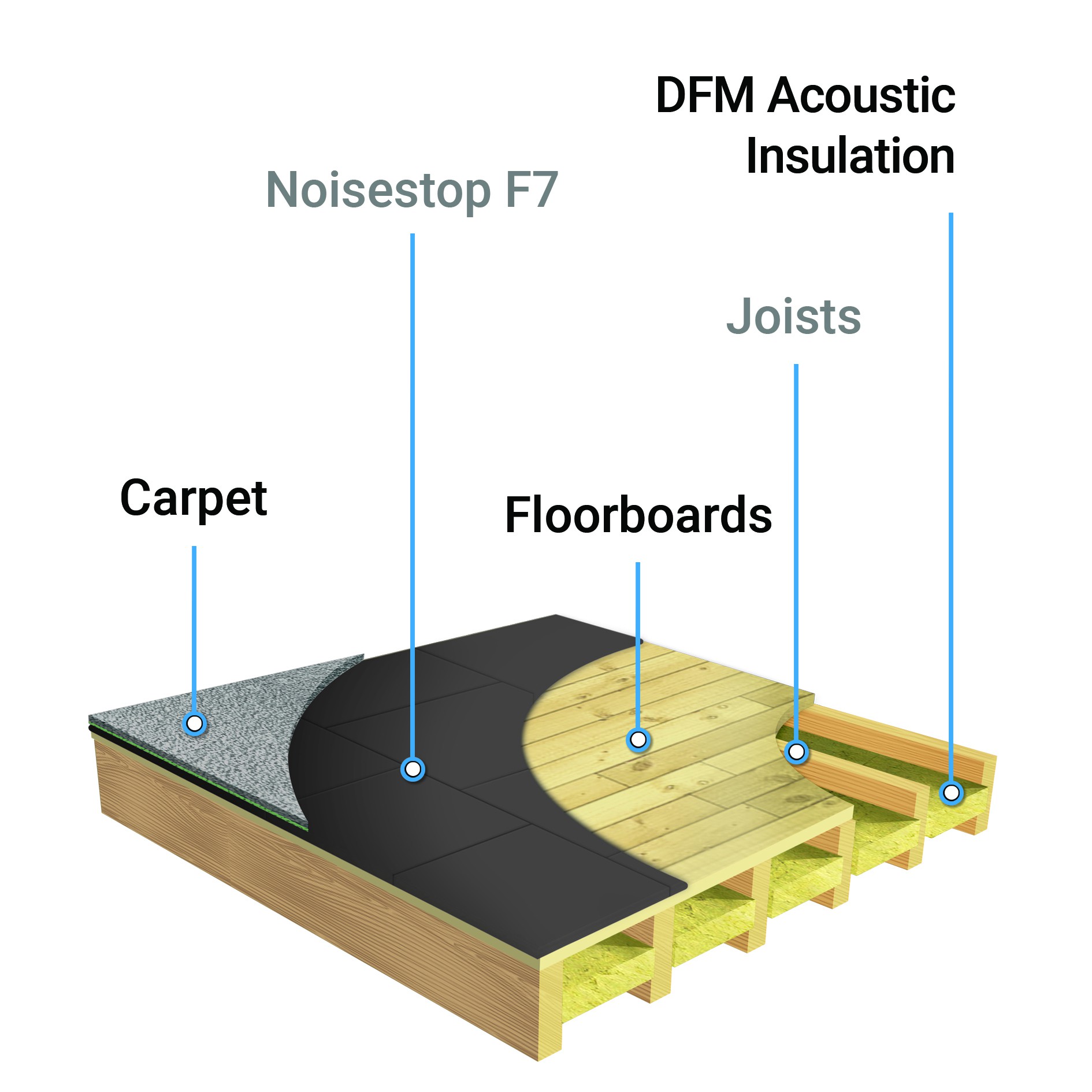 For enquiries please call 01423 339163, or send us a message via our contacts page.