Description
Soundbreaker bars are designed to significantly improve the sound insulation of walls and ceilings. The soundbreaker bars effectively separate plasterboard and soundproof panels from the stud frame or ceiling joist. The decoupling of the building structure from the plasterboard reduces sound transferring from room to room.
An integral part of any wall and ceiling soundproofing solution to achieve the best possible level of isolation you should consider using these acoustic hangers when ever you are considering soundproofing walls or ceilings. Soundbreaker bars are essential when you have a project that requires Building Regulations Part E compliance.
Product Data
3m (l) x 75mm (w) x 17mm (d)
Galvanised steel
Soundbreaker Bars on Walls
Reduce sound transfer between rooms by attaching the acoustic hangers to timber and metal studs. Fix the bars horizontally across studs at 600mm centres and fix the boarding to the corrugated fixing flange. The soundbreaker bars will reduce sound that transfers through walls by absorbing sound that would normally vibrate through the structure of the wall. The unique design decouples the plasterboard from the stud frame.
Soundbreaker bars fitted at 600mm centres on walls
Soundbreaker Bars on Ceilings
Soundproof ceilings with soundbreaker bars when they are installed on to timber ceiling joists. Bars are attached at right angles to the joist. Spacing for the bars on ceilings should be approximately 400mm centres. The bars reduce sound that transfers through the ceiling by absorbing sound that would normally vibrate through the ceilings structure. The unique design decouples the plasterboard from the ceiling joist.
Soundbreaker bars fitted at 400mm centres on ceilings
Use Soundbreaker Bars on Part E Separating Ceilings
If you are creating separate dwellings between floors for either new build or conversion projects you should use soundbreaker bars in the construction of the ceiling. Ensure your project complies with Building regulations by incorporating soundbreaker bars, acoustic insulation and two layers of acoustic plasterboard. Finalise the construction with a suitable floor covering comprising of either acoustic underlays or floating floors. For more information on complying with Part E please call 01423 339163, alternatively get in touch by sending us a massage, contact us.
Soundbreaker bars installed as a Part E ceiling structure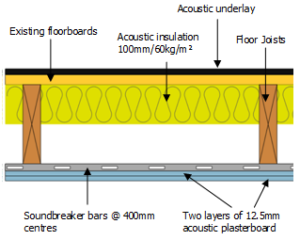 The Noisestop range of products have been fitted into homes and businesses across the UK for more than twenty years. In that time we have been able to develop the Noisestop range of products to ensure the very best levels of soundproofing to restore peace and quiet at work and in your homes.
Using our extensive knowledge of the soundproof and acoustic industry we have been able to develop products to soundproof walls, floors and ceilings that are both affordable and more importantly good at what they do. All the products we supply have been tried and tested in real life situations in homes and businesses, so we know they work in real life situations, not just in a lab.
From our base in Yorkshire we are well placed to deliver your soundproofing requirements throughout the UK. We send all our soundproof products direct so we have full control over all the products that leave our warehouse.
Our team are ready and willing in assisting you with any enquiries relating to products in the Noisestop range. Whether you are unsure about a product, or you don't know which solution to choose, don't worry we have had many years of experience which we can share with you to help solve any noise related issue.
you can contact us through our contacts page and send us an enquiry, alternatively give us a call on 01423 339163.