Description
Soundbreaker bars are designed to improve the sound insulation of walls and ceilings significantly. Acoustic hangers effectively separate plasterboard and soundproof panels from the stud frame or ceiling joist. The decoupling of the building structure from the plasterboard reduces sound transferring from room to room.
Acoustic hangers are an integral part of any wall and ceiling soundproofing solution. To achieve the best possible isolation level, you should consider using these acoustic hangers whenever you consider soundproofing walls or ceilings. Soundbreaker bars are also the perfect solution for any project that requires Building Regulations Part E compliance.
Product Specification
3m (l) x 75mm (w) x 17mm (d)
Galvanised steel
Our friendly experts are here to assist with all your soundproofing needs. Get in touch to discuss solutions for your home and tips for installation. You can also check out our guide to fitting soundbreaker bars.
Soundbreaker Bars on Walls
Reduce sound transfer between rooms by attaching the acoustic hangers to timber and metal studs. Fix the bars horizontally across studs at 600mm centres and fix the boarding to the corrugated fixing flange.
The soundbreaker bars will reduce the sound that transfers through walls by absorbing sound that would normally vibrate through the wall's structure. The unique design decouples the plasterboard from the stud frame.
Soundbreaker Bars on Ceilings
Soundproof ceilings with soundbreaker bars when they are installed on timber ceiling joists. Bars are attached at right angles to the joist. Spacing for the bars on ceilings should be approximately 400mm centres. These acoustic hangers reduce the sound that transfers through the ceiling by absorbing sound that would normally vibrate through the ceiling's structure. The unique design decouples the plasterboard from the ceiling joist.
Acoustic Hangers for Part E Separating Ceilings
If you are creating separate dwellings between floors for either new build or conversion projects, you should use soundbreaker bars to construct the ceiling. Ensure your project complies with Building regulations by incorporating soundbreaker bars, acoustic insulation and two layers of acoustic plasterboard. Finalise the construction with a suitable floor covering comprising either acoustic underlays or floating floors. For more information on complying with Part E, please call 01423 339163, alternatively get in touch by sending us a message, contact us.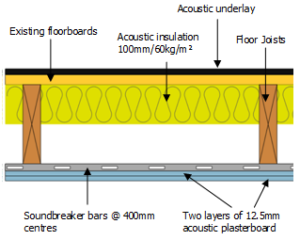 Frequently Bought Together
Alternative Solutions
Alternative solutions that will offer different levels of soundproofing or another kind of installation method that might suit your requirements.
Wall and Ceiling Soundproofing
Make sure you are getting the right soundproofing for your needs. Understanding the most common types of noise and how to stop them will help you decide the right solution.
Different Types of Sound
Airborne sounds – Conversation, TV noise and radios are examples of airborne sound. The best way to stop airborne sounds is to add mass/density to the walls or ceilings.
Impact/vibration sounds – Footfall and moving furniture across a floor are examples of impact sounds. The best way to reduce these sounds is to create separation.
In summary, the best way to reduce airborne sounds is by increasing the mass of the area you would like to soundproof. Reducing impact/vibration sounds is achieved by creating separation within the structure.
Reducing Impact and Airborne Sounds
By following some of these steps, you will ensure you get the best level of soundproofing for your room.
Mass/Density – Increasing the mass and density of the area you are soundproofing will block airborne sounds from transferring between rooms. You will increase the mass of walls and ceilings using materials such as soundproof panels or high-density acoustic insulation slabs.
Separation – Incorporating separation within the structure will reduce vibration and impact sounds transferring between rooms. Achieve separation by building independent stud walls and ceilings. If you don't have the space in the room, you can use acoustic clips and resilient channels to decouple the wall and ceiling.
Absorption – Use materials that are going to absorb sounds. Acoustic insulation is suitable for sound absorption as it converts the sound waves into heat as it passes through the insulation. Dense mass loaded barriers will also dampen and absorb sound.
For help and advice, get in touch, speak to an adviser, call 01423 339163. Alternatively, please send us your enquiry.