Description
Stud Wall Kit 100mm DFM
Stud wall soundproofing kit using 100mm DFM acoustic insualtion inside the stud walls. Soundproof a stud wall using our stud wall soundproofing kit to reduce airborne noise between rooms through a stud wall. Stop the sound of conversation, television and music coming through the wall. Stud walls are used to separate rooms in your home, if you require additional privacy between the rooms or don't want to be disturbed by the sound of a TV from a teenager's bedroom, increase the sound insulation of your stud wall and reduce the level of noise by soundproofing your walls with this system.
Products supplied with stud wall kit

100mm/60kg/m³ DFM acoustic insulation
Soundbreaker bars
Noisestop1+
Acoustic plasterboard 1200mm x 1200mm x 12.5mm
Acoustic sealant
Installation of stud wall kit using 100mm DFM
Remove the plasterboard from one side of the stud wall, preferably from the side of the wall that the noise is being generated. Infill the cavity between the studs with the 100mm DFM insulation, once the void has been completely filled attach the soundbreaker bars to the face of the stud work at 600mm centres. Screw the Noisestop1+ board directly to the bars, attaching them to the wider corrugated flange of the bar. Once the first layer of boards is installed attach the layer of acoustic plasterboard over the first layer, stagger the joints between the two layers to stop sound leaking through the joins. Seal around the edges of each board with the sealant as you install the boards.
Wall soundproofing systems comparison table
Product
Application
Systems thickness
Noise reduction on a party wall
Noise reduction for stud walls
Wall System1
Solution for party walls
85mm
60dB
Wall System 2
Solution for party walls
45mm
55dB
Stud Wall Kit 50mm Insulation
Solution for party walls and independent stud walls
95mm including stud frame
61
51dB
Stud Wall Kit 75mm Insulation
Solution for party walls and independent stud walls
120mm including stud frame
63dB
53dB
Stud Wall Kit 100mm
Insulation
Solution for party walls and independent stud walls
145mm including stud frame
66dB
56dB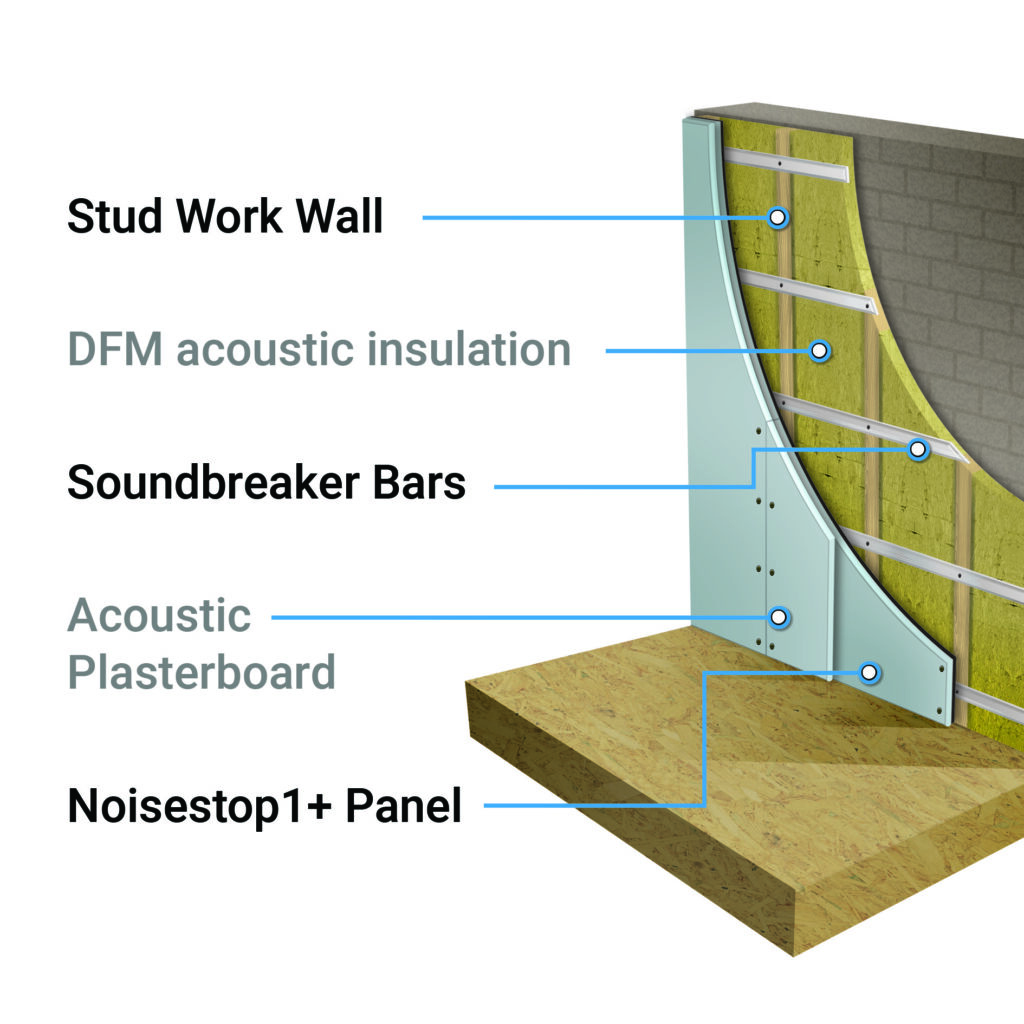 For enquiries please call 01423 339163, or send us a message via our contacts page