Description
Stud Wall Kit 50mm DFM
Restore a quiet calmness to your home by soundproofing your stud walls with this acoustic wall kit. It's suitable for stud frames with a minimum depth of 50mm and can be used to soundproof new or existing stud walls. Alternatively, install this solution on party walls to increase the sound insulation between neighbouring properties.
Once installed on your walls, these materials block airborne and impact sound that transfer through poorly insulated walls. Standard stud wall construction does very little to block the passage of sound. This solution will increase wall mass and reduce vibration through the walls structure. The result will be significant noise reduction compared to untreated stud walls. This solution is suitable for rooms divided by lightweight internal walls which do not block sound transfer.
Stud Wall Kit 50mm comprises of:
The 50mm acoustic insulation will block and absorb sound waves, reducing airborne sound through the wall. Then, the soundbreaker bars attached to the stud frame serve as an acoustic hanger to adsorb vibration that would normally transfer through your walls. It is this vibration that allows sound transfer between rooms.
Our Noisestop 1+ panels combine mass and density to block airborne sound. The combination of a 12.5mm acoustic plasterboard and the 10kg mass vinyl backing will reduce airborne sound and vibration of the plasterboard.
Each layer of 12.5mm acoustic plasterboard is denser than standard plasterboard. Using it allows you to stagger the joints of the first layer of boards. Then, AC50 acoustic sealants are used to seal the edges of the boards and around the wall's perimeter. Using acoustic sealant will ensure no small gaps are left between the boards for sound to escape.
We have put these soundproofing systems together as examples of combinations of products you can use to soundproof a room. You can use various combinations to suit your requirements, whether you are looking for additional sound control or you might have a bit of extra space for a thicker solution.
Feel free to get in touch to discuss your needs with one of the team. We can provide help and advice to tailor the right soundproof system for you, call 014213 339163.
Acoustic Performance
Airborne Sound Insulation
55dB
Installing Stud Wall Kit 50mm
Stud Wall Kits are relatively simple to install and can be carried out by anybody that has a good knowledge of DIY. The materials supplied within the kits are for one side of a stud wall. If you are soundproofing an existing stud wall, remove the plasterboard from one side. If you build a new stud wall, apply the kit to one side and the plasterboard to the other side. Use acoustic plasterboard for this as it reduces more sound than standard plasterboard. If you are soundproofing an existing wall, you should consider over boarding the other side of the wall with acoustic plasterboard.
To install this stud wall soundproofing kit, follow these steps:
Insulate between the stud frame with the DFM acoustic insulation. Cut the slabs 5mm wider than the opening to friction fit between the stud frame. Ensure the whole area is filled before you move on to the next stage.
Soundbreaker bars are fitted to the stud frame at 600mm centres. The bars are screwed onto the studs at 600mm centres, horizontally running wall to wall. The first bar is secured 50mm up the wall; continue fitting the bars up the wall. For more information on fitting soundbreaker bars. Bars are fixed into the studs by screwing through the pre-drilled holes that run along the length of the bar.
The Noisestop 1+ board and the acoustic plasterboard are screwed directly into the soundbreaker bars. The boards are screwed into the wide flat corrugated flange of the bar. There is no need for pre-drilling into the bars. Attach boards with drywall screws or universal screws. Fix the Noisestop 1+ panel first and then overboard with the acoustic plasterboard.
Use an acoustic sealant to seal each board's edges and seal the perimeter of the wall. You can apply an acoustic sealant to the panels as you install them, as well as filling any gaps between the boards after they have been installed.
Once you have installed the boards,  either plaster the wall or tape and fill the tapered edge of the plasterboard.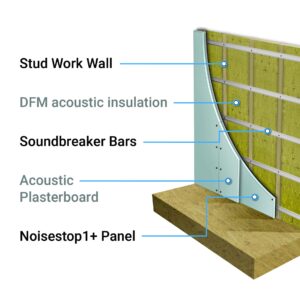 Acoustic modelling
Noisestop Systems provide acoustic modelling to help design and plan your soundproofing solution. Our acoustic modelling allows us to help you plan how to best soundproof a room. Whether you are looking to soundproof one wall against a noisy neighbour, building a studio or planning for a building Regulation project, get in touch to see how we can help.
We provide homeowners, architects, builders and specifiers with visual and technical information to ensure your soundproofing project meets your requirements.
For more information on this free service call 014213 339163, alternatively, please send us an enquiry.
When you are considering any form of wall soundproofing, you should take into account flanking sound. Sound travels around a building through any cavities it can find. One of the easiest ways for sound to pass through is between floor cavities. Sound transferring through these areas is flanking sound. When soundproofing a wall, you should consider reducing the chance of sound transferring through floor cavities between the floor joists.
If your floor joists are shared with a neighbouring property, it is easy for sounds to transfer through the floor. If you soundproof a party wall, you should check to see if floor joists are going through to your neighbour's property. Do this by checking which way your floorboards are running. If they run in the same direction as the wall, the chances are you floor joists will be running into the wall, increasing the chance of flanking sound transferring between the properties.
The easiest way to reduce flanking sound through your floors is to insulate between the floor joists. Remove a few floorboards up against the wall and fill the cavity against the wall with acoustic insulation 80kg/m³ would be a suitable density of slab to use. Fit the slabs against the wall, coming back into the room approximately 600mm, or the width of a slab.
Wall Soundproofing Comparison
Product
Application
Systems Thickness
Airborne Sound Insulation on a Party Wall

Noise Reduction for Stud Walls
Wall System1
Solution for party walls
85mm
63dB
Wall System 2
Solution for party walls
45mm
59dB
Stud Wall Kit 50mm Insulation
Solution for party walls and independent stud walls
47mm from the stud frame
55dB
Stud Wall Kit 75mm Insulation
Solution for party walls and independent stud walls
47mm from the stud frame
57dB
Stud Wall Kit 100mm
Insulation
Solution for party walls and independent stud walls
47mm from the stud frame
60dB
Wall Soundproofing Solutions
Please take a look at our full range of wall soundproofing products view all our solutions to soundproof walls. Find the best solution for your requirements, whether you are looking for noisy neighbour soundproofing or a music room.
Need help with your soundproofing call 01423 339163, alternatively send us your enquiry. You can upload any relevant documents such as plans, drawings and pictures.