Description
Wall System 1
Wall System 1 is a combination of products that will reduce very high levels of sound through party walls. A complete solution to the increasing problem of neighbour noise Wall System 1 eliminates sounds generated by noisy neighbours. This system is a complete solution to soundproof party walls. This wall soundproofing system offers the highest level of noise reduction of all our wall soundproofing solutions. The combination of products supplied with this system increase the mass and create separation, two key factors when soundproofing a wall. Suitable for music rooms and studio soundproofing.
Using a combination of products ensures very high levels of soundproofing. Acoustic false walls offer the best levels of soundproofing by combining different acoustic materials. This system combines all the soundproof materials you need to restore peace and quiet in your home. Block and reduce airborne sound and vibration through walls.
System information
System thickness 85mm
Sound reduction on the wall 60dB
Noisestop1+ panel – 18mm soundproof panel
DFM50mm/60kg/m³ – acoustic insulation

Soundbreaker bars – acoustic hangers
AC50 – acoustic sealant
Fitting Wall System 1
Use a timber or metal frame to install the materials supplied with Wall System 1. Use normal construction methods to erect the wall. Try to avoid fixing into the existing wall with nails or screws as sound can transfer along the fixings. If you can leave a 25mm air gap between the two walls this will increase the sound reduction of the system as no part of the wall will be touching the existing wall, reducing sound transmission through a de-coupling effect.
Wall System 1 consists of a 50mm/60kg/m³ DFM acoustic insulation slab 1200mm x 600mm. The high density of this slab means they are far superior at blocking and absorbing sound than standard insulations.
The soundbreaker bars isolate the stud work from the final layer of acoustic panels, reducing the sound vibration through the structure by reducing surface area contact due to their unique design.
The new wall is finished with the 18mm acoustic wall panels Noisestop1+. The boards consist of a 12.5mm acoustic plasterboard bonded to a layer of 5mm high density rubber mass loaded vinyl barrier. Acoustic plasterboard is better performing than standard plasterboard. When combined with the mass loaded vinyl it stops the board from vibrating as well as increasing its mass. This makes it superior to untreated plasterboards which would vibrate causing the sound to transmit into the room.
Tubes of AC50 acoustic sealant are supplied and should be used to seal around the edges and perimeter of the new wall. No additional plasterboard is required, once finished it is ready to plaster skim or decorate to complete the installation.
Wall soundproofing systems comparison table
Product
Application
Systems thickness
Noise reduction on a party wall
Noise reduction for stud walls
Wall System1
Solution for party walls
85mm
60dB
Wall System 2
Solution for party walls
45mm
55dB
Stud Wall Kit 50mm Insulation
Solution for party walls and independent stud walls
95mm including stud frame
61
51dB
Stud Wall Kit 75mm Insulation
Solution for party walls and independent stud walls
120mm including stud frame
63dB
53dB
Stud Wall Kit 100mm
Insulation
Solution for party walls and independent stud walls
145mm including stud frame
66dB
56dB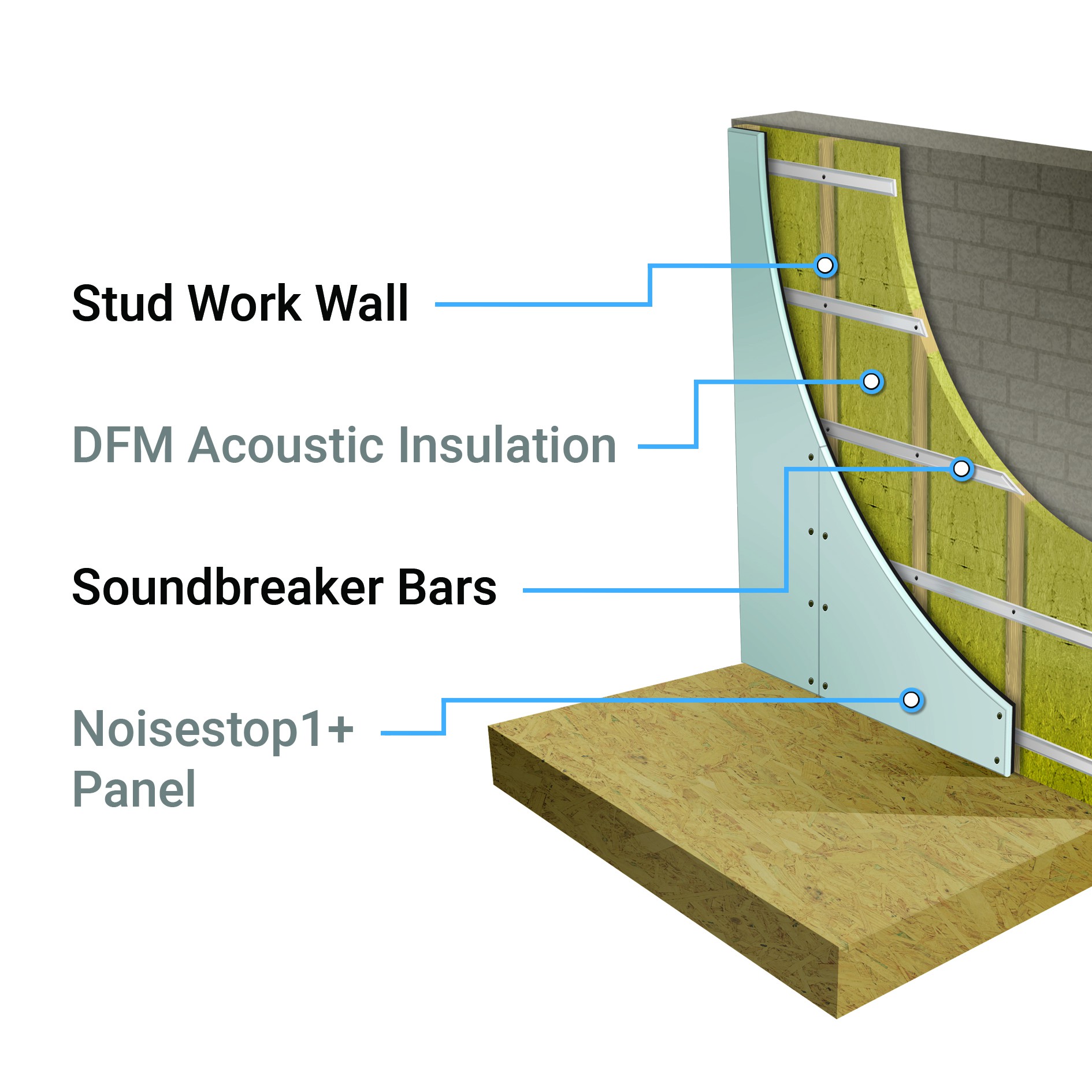 For enquiries please call 01423 339163, or send us a message via our contacts page.