Combine acoustic materials to create a wall soundproofing system to increase the sound insulation of walls
Soundproof a wall using wall soundproofing systems for the best levels of sound insulation. By using different products, you will block and absorb higher levels of both impact and airborne sound. By using a soundproofing system, you will block a greater range of sounds. Different materials within the solution will block and absorb different frequencies.
Wall soundproofing systems are a great way of soundproofing walls against noisy neighbours. Soundproof a wall using wall soundproofing systems in rooms to reduce high levels of sound. Rooms such as studios, home cinemas and noisy work environments would require the additional levels of sound insulation you achieve by installing a wall soundproof system.
What you will need to create a wall soundproofing system
Acoustic insulation
Combine the following materials to soundproof walls. Use wall soundproofing systems to sound insulate party walls and internal stud walls. Use acoustic insulation between stud work. Acoustic insulation blocks and absorbs sound that would normally reverberate inside a stud wall. The insulation absorbs the sound, and the sound is converted into heat, reducing the overall sound level.
Use a mid-range density of insulation, the acoustic insulation 80kg/m³ slabs are suitable for most domestic soundproofing solutions. Consider using higher density sound insulation slabs. Acoustic insulation goes up to 140kg/m³ in rooms that require higher levels of noise reduction.
Acoustic insulation
Soundbreaker bars
Another factor to take into consideration when you are soundproofing walls is creating separation. Creating separation between the existing wall and the soundproof wall will further improve the sound insulation. Sound will transfer through solid structures via vibration. If you can reduce the vibration, the overall level of sound will be reduced.
Achieve separation by either building a new acoustic false wall free standing of the existing wall. Alternatively, it would help if you used soundbreaker bars. These are acoustic hangers that are fitted onto the stud frame. These bars are designed to reduce vibration through the studs frame. Absorbing vibration and reducing the surface area connection between plasterboard and the stud work.
Soundbreaker bars
Soundproof panels
finish soundproofing your walls by installing acoustic plasterboard or specialists soundproof panels. Acoustic plasterboard is denser than standard plasterboard. The density increases the sound insulation performance of these types of plasterboard. Achieve much higher levels of sound reduction using soundproof panels. Combining acoustic plasterboard with mass loaded vinyl membranes and acoustic foams increase the performance of the plasterboard.
Combining the acoustic membranes to the plasterboard sound is greatly reduced. The high-density membranes on the boards increase the mass and density, blocking more airborne sound. Vibration through the plasterboard is also absorbed by the membrane, further reducing the sound normally transmitted through the plasterboard via vibration.
The Noisestop 1+ panel is supplied as standard with all our wall and ceiling soundproofing kits. Use the Noisestop Acoustic Panel further to improve the sound insulation of your wall soundproofing systems.
Soundproof panels
Wall soundproofing systems
There are several product combinations you can choose to soundproof a wall using wall soundproofing systems. Noisestop Systems have various solutions to soundproof party walls and stud walls that combine all the necessary materials. Here are some of our more popular solutions wall soundproof solutions.
Wall System 1
Wall System 2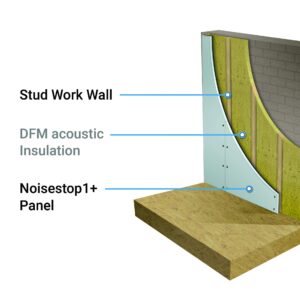 75mm Stud Wall Kit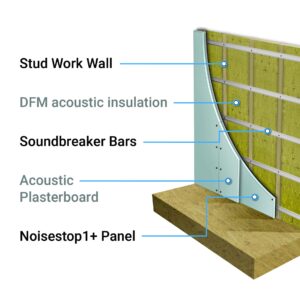 100mm Stud Wall Kit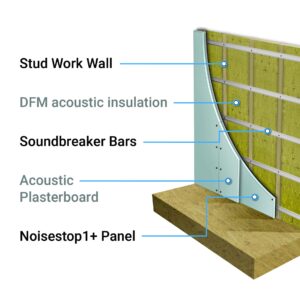 Reduce flanking sound
When you are considering any form of wall soundproofing, you should take into account flanking sound. Sound travels around a building through any cavities it can find. One of the easiest ways for sound to pass through is between floor cavities. Sound transferring through these areas is flanking sound. When you soundproof a wall, you should consider reducing the chance of sound transferring through floor cavities between the floor joists.
If your floor joists are shared with a neighbouring property, it is easy or sounds to transfer through the floor. If you soundproof a party wall, you should check to see if floor joists are going through to your neighbour's property. Do this by checking which way your floorboards are running. If they run in the same direction as the wall, the chances are your joists will be running into the wall. This will increase the chance of flanking sound transferring between the properties.
The easiest way to reduce flanking sound through your floors is to insulate between the floor joists. Remove a few floorboards up against the wall and fill the cavity against the wall with acoustic insulation 80kg/m³ would be a suitable density of slab to use. Fit the slabs against the wall, coming back into the room approximately 600mm, or the width of a slab.
The Noisestop range of products has been fitted into homes and businesses across the UK for more than twenty years. In that time, we have developed the Noisestop range of products to ensure the very best levels of soundproofing to restore quiet at work and in your homes.
Using our extensive knowledge of the soundproof and acoustic industry, we have developed products for soundproofing walls, floors and ceilings that are both affordable and, more importantly, good at what they do. All the products we supply have been tried and tested in real-life situations in homes and businesses, so we know they work in real-life situations, not just in a lab.
From our base in Yorkshire, we are well placed to deliver your soundproofing requirements throughout the UK. We send all our soundproof products direct, so we have full control over all the products that leave our warehouse.
Our team are ready and willing in assisting you with any enquiries relating to products in the Noisestop range. Whether you are unsure about a product or don't know which solution to choose, don't worry; we have many years of experience, which we can share with you to help solve any noise-related issue.
You can contact us through our contacts page and send us an enquiry, alternatively give us a call on 01423 33913.