Soundproof Flooring Underlays
Noisestop Systems provide a range of soundproof flooring underlays. Floor soundproofing for concrete and timber floors, soundproof underlays will help stop impact and airborne noise between floors.
The best method of soundproofing a floor to stop impact noise is to stop the impact noise at the source. Block and absorb sound before it transfers through the floor structure. The best way of doing this is by using a floor soundproofing underlay. Acoustic mats will reduce the energy generated when an object hits the floor. This type of soundproofing flooring combine mass loaded barrier mats and acoustic grade foams. This combination of materials will block, absorb and reduce noise through all types of floors.
Noisestop F7 floor soundproofing underlay
Noisestop F7 is a 10mm thick 1200mm x 1200mm acoustic underlay for reducing noise between floors. Noisestop F7 is quick and easy to install over your floor, loose lay the mats in a brick bond pattern across the floor, if you are combining with a carpet underlay you will need to fit perimeter strips around the edge of the room before you lay the mats. The strips will ensure your flooring will be at the correct height around the edges of the room. The Noisestop F7 will form an effective barrier to stop airborne and impact noise between your floors. If you are soundproofing wooden floors you can increase the airborne sound reduction by using DFM acoustic insulation between the floor joists.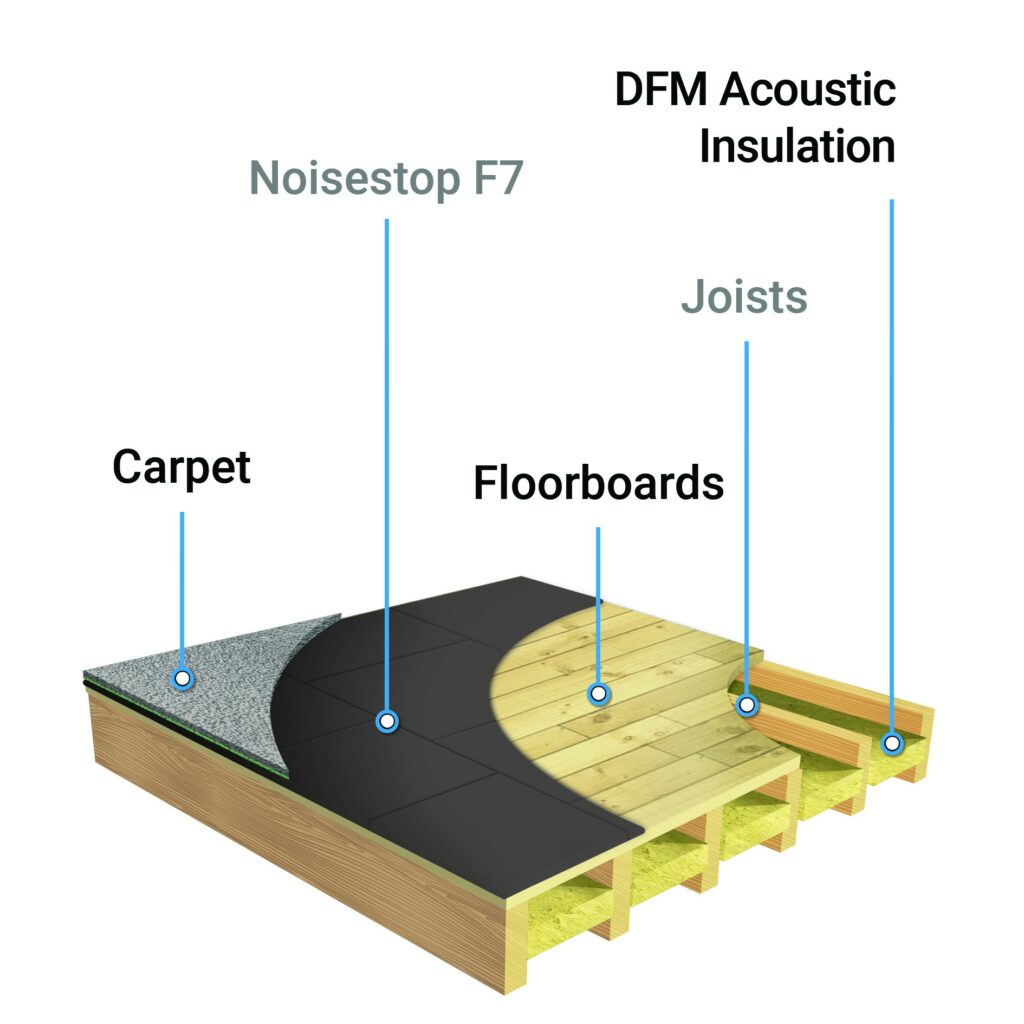 Use Noisestop F7 on your floors to comply with current Part E Regulations, combine with 100mm DFM acoustic insulation, soundbreaker bars and a double plasterboarded ceiling. The mats must be fixed to the floor with a suitable floor grade adhesive.
Noisestop F7+ soundproofing underlay
Use the 15mm thick Noisestop F7+ 1200mm x 600mm mats when high levels of impact noise reduction is required. Lay over your existing sub-floor below hard floor finishes such as engineered flooring, laminates or tiled floors. These floors often generate high levels of impact noise. Lay the F7+ mats over the floor, use a floor grade adhesive if you are soundproofing a floor to meet Building Regulations. If your floor finish is under 15mm thick you should lay a ply-wood or equivalent over the Noisestop F7+ of at least 6mm thick to reduce movement of the floor finish.
Noisestop F7+ can be used to ensure your floors meet Building Regulations. Ensure your separating floor meets Part E by installing the acoustic underlay with acoustic insulation between the joists, soubdbreaker bars and a double plasterboarded ceiling below.
Soundproof the floors in your home or workplace with soundproofing underlays from Noisestop Systems. A quick and easy way to stop impact and airborne noise between floors. If you need help deciding which underlay is best for your needs give us a call 01423 339163 or send us an enquiry contact us.