How to Soundproof a Brick Wall Against Noisy Neighbours
Choose from a variety of solutions for soundproofing a brick wall against noisy neighbours.
Solutions vary from thin direct to wall solutions up to more robust wall soundproofing kits. The need to soundproof walls against noisy neighbours has increased as modern life has become more hectic. As more and more of us are working from home, our need for soundproofing walls will only increase.
Our solutions are easy to install, and someone with competent DIY skills can carry out most installations.
Direct to Brick Wall Soundproofing Solution
Noisestop 2 Panels
The Noisestop 2 Panels can be bonded using plasterboard adhesive directly to a brick wall. You can also fit the panels over a finished wall that has been plastered and decorated.
Due to the composition of this panel, it can be bonded to brick, breeze block and plaster. The high-density membrane at the centre of the panel significantly increases the mass and density of the plasterboard and reduces vibration that would occur with normal plasterboard.
Wall Soundproofing Solution for Finished Walls
Noisestop Acoustic Panel
Our premium direct to wall soundproofing solution for walls that have already been plastered or decorated.
Soundproof your finished walls with this high performing soundproofing panel. Apply directly to the finished wall to increase the sound insulation of your party wall.
Soundproof Systems for Brick Partition Walls
Combining soundproof products is the best way of soundproofing a brick wall against noisy neighbours. When excessive amounts of sound are transferred from a neighbouring property, you should consider an acoustic false wall solution. Combine soundproof insulation, soundproof boarding and acoustic hangers to form your acoustic wall for the highest levels of sound insulation on a brick wall.
Soundproof your brick walls using our premium solution for party walls. Wall System 1 comprises 50mm acoustic insulation, soundbreaker bars, Noisestop 1+ Panels and acoustic sealants. When combined, they will form an acoustic wall that is only 83mm thick.
Wall System 2
Our thinnest wall soundproofing system for brick walls. Wall System 2 combines 25mm acoustic insulation, Noisestop 1+ Panels and acoustic sealants. The combined materials are 43mm thick. When applied to a brick wall, they form an effective soundproof wall against noisy neighbours.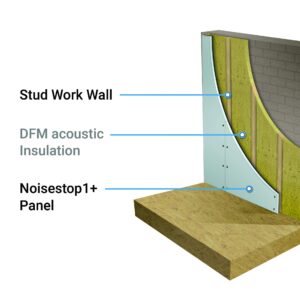 Need help with your soundproofing call 01423 339163, alternatively send us your enquiry. You can upload any relevant documents such as plans, drawings and pictures.