Soundproofing Materials for Ceilings
Soundproofing materials for ceilings to stop airborne and impact noise. Find out the best method of soundproofing a ceiling and what materials to use. Use the right soundproof ceiling materials to stop sound transfer between rooms. Noisestop Systems provide a range of ceiling products, including acoustic insulation, soundproof ceiling panels and complete acoustic ceiling systems. Please view our complete range of ceiling soundproofing products.
Sound will pass through poorly insulated ceilings. There is no density or separation to stop the sound without acoustic insulation between the ceiling joists and only a sheet of plasterboard. Soundproof your ceilings by using acoustic insulation between the joists. This will increase the density and stop sound from easily passing through the cavity. Create separation in the ceiling structure by fixing Soundbreaker Bars to the underside of the joists; these will reduce the sound vibration through the ceiling structure. Finish your ceiling soundproofing with soundproof ceiling panels. Soundproofing panels have much higher density and sound absorption due to the high-density barriers bonded to the plasterboard.
Combining soundproof materials will ensure your ceilings are well sound insulated
Combinations of soundproof materials are the best method of soundproofing a room. Noisestop Systems provide a range of ceiling soundproofing kits that combine all the sound insulation materials to soundproof your ceilings.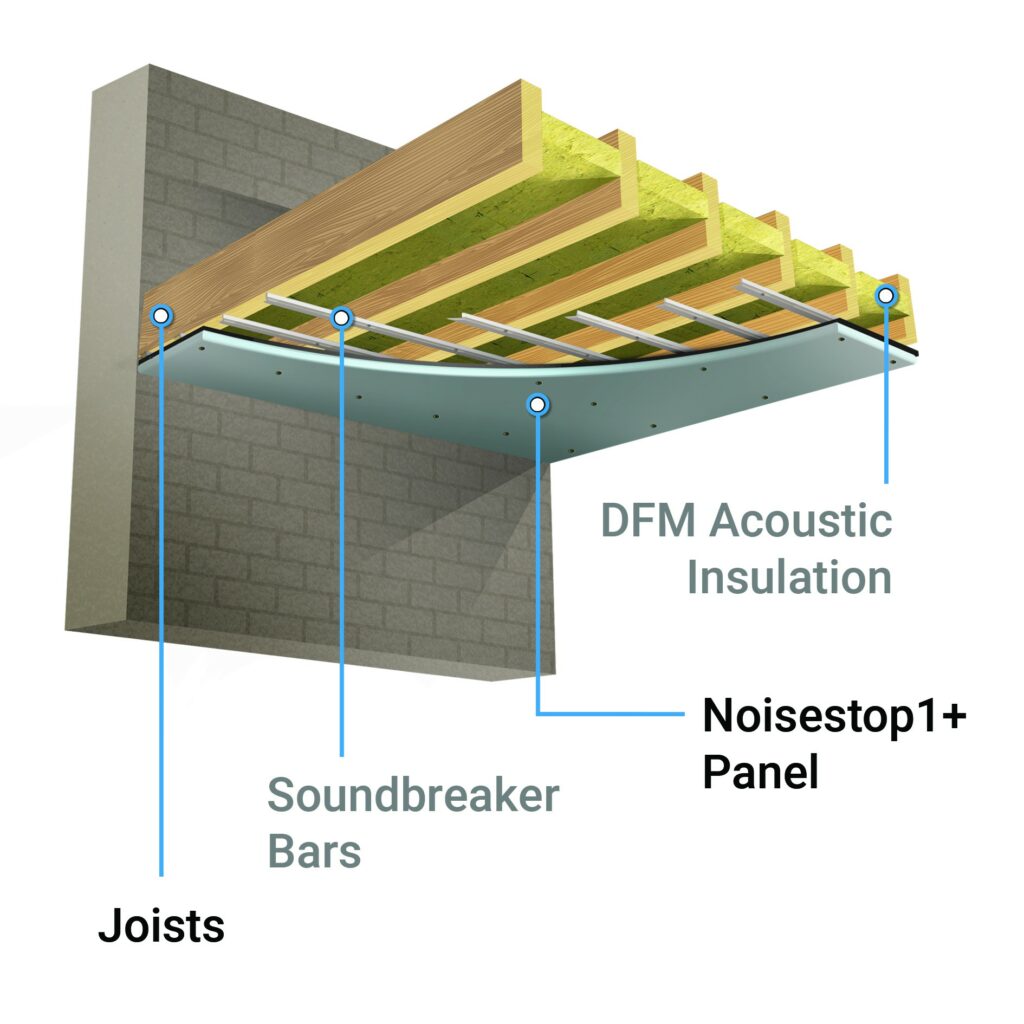 Materials to soundproof your ceilings
Create your own soundproof ceiling using these materials. These soundproof materials can be used for soundproofing ceilings with joists.
Increase the density of the ceiling with acoustic insulation slabs. Acoustic insulation will increase the sound insulation of your ceiling and reduce sound reverberating inside the ceiling cavity. Use a minimum of 60kg/m³ density, go higher if your budget allows, increase the airborne sound reduction with this type of sound insulation.
You must create separation in your acoustic ceiling. The easiest way to do this is to use Soundbreaker Bars. An acoustic hanger that fixes to the face of the ceiling joists to reduce sound vibration through the ceiling. The design of these acoustic hangers reduces connected surface area, reducing the vibrations through the ceiling.
Use soundproof panels to finish your ceiling. A soundproofing ceiling panel will normally combine a mass-loaded barrier sheet with a sheet of acoustic plasterboard. This will significantly increase to sound insulation of the plasterboard. The high mass barrier layer increases the density of the plasterboard and reduces vibration, reducing sound vibrating through the plasterboard.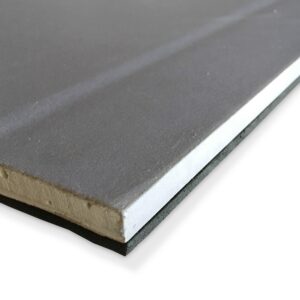 Some of our more popular ceiling soundproof materials are below. Please view our complete range of ceiling soundproofing materials. If you require any more help take a look at our ceiling soundproofing guide. Alternatively, get in touch or give us a call 01423 339163.