Soundproof Panels
Noisestop Systems specialise in manufacturing thin soundproof panels. We have developed a range of acoustic panels over many years suitable for soundproofing homes and businesses in the UK. The Noisestop Acoustic panel, Noisestop2 and Noisestop2+ all ensure good levels of sound insulation for walls and ceilings without compromising on living space. Soundproof wall panels are an extremely popular method of increasing the sound insulation of party walls. Use acoustic ceiling panels to increase the sound insulation of an existing ceiling.
Noisestop Systems also provide a range of sound absorption products. Reduce echo and reverberation in a room using these sound absorbing wall and ceiling panels.
Noisy neighbour solution
Soundproof wall panels
Soundproof ceiling panels
Part E
Party walls & stud walls
DIY soundproofing
One of the most common questions we are asked is 'how much room will I lose if I soundproof my room'? The answer is simple you can soundproof a room with less than 45mm space loss. Thin soundproof wall panels are bonded directly to your walls with Smart Tack Adhesive or plasterboard adhesive. Alternatively use screws and plugs.
Thin Wall Soundproofing Solution Noisestop Acoustic Panel
Noisestop Acoustic Panel direct to wall solution is only 22.5mm. The product combines a 12.5mm acoustic plasterboard and a layer of 10mm mass loaded vinyl and acoustic foam. The Noisestop panel is the best performing direct to wall soundproofing solution we offer. When applied to a brick party wall the sound reduction levels are up to 50dB. The Noisestop Acoustic panel is screwed straight into solid walls. The 10mm layer of soundproofing on the back of the board will stop potential sound transmission through the fixings. The Noisestop panel is used to soundproof ceilings and offers excellent levels airborne noise reduction when you are over boarding an existing ceiling.
Size 1200mm x1200mm
Thickness 22.5mm
Area coverage 1.44m²
Sound reduction 50dB
Part E
Speedy installation
DIY friendly
Direct to wall soundproofing solution Noisestop2 & Noisestop2+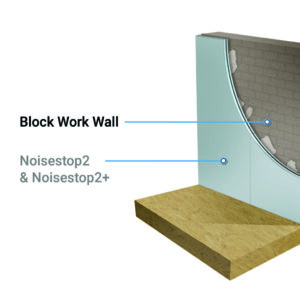 The Noisestop2 and Noisestop2+ panels are from the same range of direct to wall soundproofing panels. Comprising of three layers, two 12.5mm acoustic plasterboards bonded to a sheet of mass loaded vinyl at the centre. The Noisestop2 panel has a 2.5mmsheet and the Noisestop2 + panel has a 5mm mass loaded vinyl centre. The mass loaded vinyl at the centre of these panels reduces the vibration that would occur in normal plasterboard. The high mass of the panel blocks sound as it transfers between rooms, increasing the sound insulation of the wall. The construction of these panels allows for them to be bonded directly to your wall using plasterboard adhesive. Fitting these boards to ceilings would require screws.
Size 1200mm x 1200mm
Thickness 28mm or 30mm
Reduces airborne sound
Performance on a party wall (Noisestop 2) 45dB (Noisestop 2+) 48dB
Thin wall solution less than 45mm space loss in total
Part E wall soundproofing panel
Easy installation
Requires no additional plasterboard
DIY soundproofing solution
Soundproof an average sized wall for under £500
There are a number of solutions available to soundproof your wall, all offering different levels of soundproofing. Some even claiming to eradicate noise completely (be very wary of such claims, it would be impossible to suggest 100% of sound could be stopped). Soundproofing wall solutions that use false walls work very well at increasing sound insulation, especially for high levels of sound. The negative point to this type of soundproofing is the space loss to the room which can vary between 90mm-150mm.
Ultra thin soundproof panels will increase the sound insulation between rooms
Noisestop Systems provide a range of ultra thin soundproof panels used as part of a combination of products to soundproof walls and ceilings. The Noisestop1 and Noisestop1+ panels are suitable for use with acoustic walls and ceiling soundproof system. These panels are supplied in our wall and ceiling soundproofing kits. The Noisestop1 is 15mm thick and the Noisestop1+ panel is 18mm thick, the Noisestop1+ is supplied with all our soundproof systems.
For best results use with DFM acoustic insulation
These ultra thin panels are for use on party walls, stud walls and ceilings. For the very highest levels of soundproofing combine with acoustic insulation and Soundbreaker Bars. As a wall soundproofing solution Wall Soundproofing System1 and Wall Soundproofing System 2 incorporate these panels as part of the kit. The result of using these combinations of products offers high levels of soundproofing suitable for use to stop even high levels of sound through walls and ceilings.
All of the Noisestop range of boards are 1200mm x 1200mm covering an area of 1.44m². Once you have calculated the area you would like to soundproof divide the square meterage by 1.44 to work out the number of boards required. Remember to allow enough for any off cuts that you might not be able to use. When working out how many sealants or bags of adhesive to order we recommend that you will require one standard tube of acoustic sealant and one bag of plasterboard adhesive for every five board.
For enquiries please call 01423 339163, or send us a message via our contacts page. FREE Nationwide delivery on orders over £750ex.VAT