Soundproof panels for soundproofing walls and ceilings
One of the most popular methods of soundproofing a room is to use soundproof panels; a sound-deadening panel will increase the sound insulation of any room. One of the reasons this type of sound insulation is popular is because of the limited amount of space soundproof panels require. You can soundproof a wall in your home against noisy neighbours without compromising living space, and even the thickest wall soundproofing panels are only 30mm thick.
Block unwanted noise through ceilings without removing the existing ceiling by applying a sound deadening panel below the existing ceiling. This method of soundproofing will reduce airborne sounds that can transfer between floors.
New Build and conversion projects that have either failed a pre-completion test or need to comply with Building Regulations Part E could benefit from the sound insulation provided by soundproof panels. Most of our panels will ensure Part E compliance either installed as a retrofit after a failed test or before the test.
Soundproof panels are quick and easy to install, making them a great choice as a DIY soundproofing solution. Most panels can be adhered directly to a wall or screwed into stud walls or ceiling joists.
What are soundproof panels?
A soundproof panel is a sound blocking board that will reduce the passage of sound between rooms. The panels are manufactured using acoustic plasterboard, which is denser than standard plasterboard, which will block more sound. A variety of membranes are then added to the back of the acoustic plasterboard. It is these soundproof membranes that increase the sound insulation performance of the plasterboard.
Soundproof membranes, often referred to as mass loaded vinyl sheets, are bonded to the back of the plasterboard. Some panels also have a combination of acoustic foam and high-density mass loaded vinyl sheeting bonded together.
The result of bonding these materials together blocks sound that would normally transmit through the plasterboard. The mass loaded vinyl increases the board's density, which reduces the sound as it passes through the panel. The mass-loaded sheets also reduce vibration through the plasterboard, which is how sound transfers through solid structures like walls. The acoustic foam on the panels further absorbs airborne and impact sound, resulting in better levels of sound insulation when applied to walls or ceilings.
Benefits of using soundproof panels
Increase the sound insulation of any room by fitting noise reduction panels to walls or ceilings.
Quick and easy fitting means that soundproof panels are a great choice for DIY soundproofing as well as trade professionals.
No compromising on living space, soundproof panels will increase the sound insulation between rooms without losing valuable space in the room.
Soundproof against noisy neighbours with soundproofing panels
Soundproof panels are suitable for most types of soundproofing. The most common reason people use sound-blocking panels is to soundproof against noisy neighbours. If you are being disturbed in your home, listening to next-door TV, other people's conversations or just general domestic sounds coming through your walls, then a soundproof panel could be the solution.
These panels can be applied in a variety of other domestic applications. Sound insulate rooms being used as home cinemas, studios, garden rooms, or to increase the sound insulation between rooms in your home.
Increase the sound insulation of walls with soundproofing panels
Noisestop Acoustic Panel
Thickness 22.5mm
Noise reduction 50dB
Noisestop 2 Panel
Thickness 28mm
Noise reduction 45dB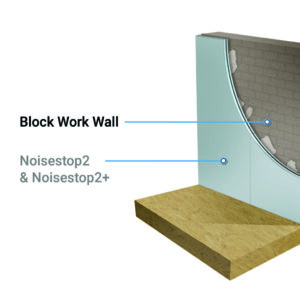 Noisestop 2+ Panel
Thickness 30mm
Noise reduction 48dB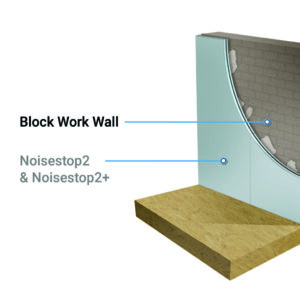 Using soundproof panels to form a complete wall or ceiling soundproofing system
Combining materials to form an effective soundproof system is the best way of ensuring the best soundproofing levels. Utilising soundproof panels, acoustic insulation, and soundbreaker bars will ensure walls and ceilings achieve the highest levels of sound insulation against airborne and impact sounds. The soundproofing kits we supply have the Noisestop 1+ Panel as part o the kit.
Noisestop Systems provide several soundproof systems for walls and ceilings that incorporate sound blocking panels. The kits provide solutions for stud wall soundproofing, party wall soundproofing and acoustic ceilings.
Below are some of our most popular soundproofing system solutions that incorporate soundproofing panels.
Wall System 1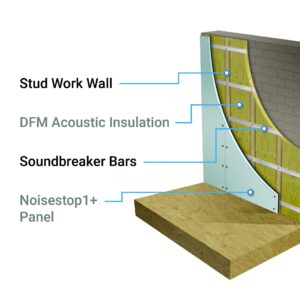 Wall System 2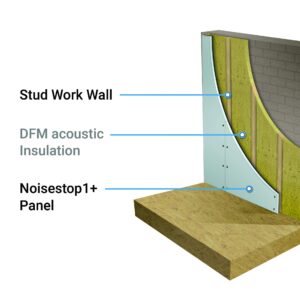 Stud Wall Kit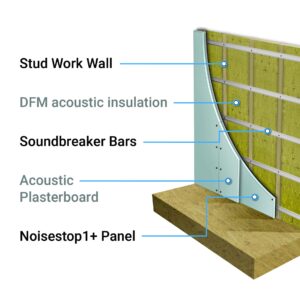 Ceiling System 1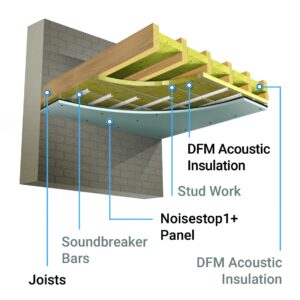 Ceiling System 2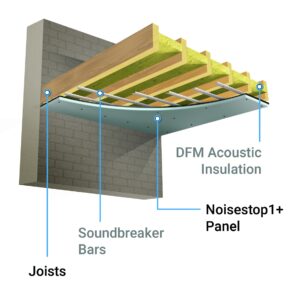 Require more information on soundproof panels?
With a wide variety of soundproofing panels on the market, you would be forgiven for needing a little extra help deciding. As we are one of the leading providers of soundproof panels in the UK, we are more than happy to share our knowledge with you. Get in touch by giving us a call on 01423 339163, alternatively drop us an enquiry via our contacts page.