Description
Noisestop 1+ Panel
Noisestop 1+ Panel Combines a 12.5mm acoustic plasterboard with a layer of 5mm mass loaded barrier mat. The acoustic membrane bonded to this panel adds to the mass of the panel. It also absorbs vibration which reduces the amount of sound transfer between rooms.
18mm x 1200mm x 1200mm (1.44m²)
Use on party walls, stud walls and ceilings
Reduce airborne noise between rooms up to 42dB
Suitable for plastering
Fitting the Noisestop 1+ Panel
The Noisestop 1+ Panel can be fitted directly onto party walls, for best results we recommend using this product with a stud frame. Using DFM acoustic insulation and soundbreaker Bars will ensure a greater level of soundproofing.
You should always use AC50 acoustic sealant around the perimeter of the wall and on the edge of each panel. One standard tube of sealant should be enough for five panels.
Reduce flanking transmission by using DFM acoustic insulation between floor and ceiling joists.
Fitting the Panels Directly to a Wall
Attach the Noisestop 1+ Panel directly to your wall using Smart Tack Adhesive. Alternatively use plugs and screws to attach the panels.
Fitting the to a Stud Wall
You can either fix the Noisestop 1+ Panel directly on to a stud frame, or for better results use the Soundbreaker Bars. If you are soundproofing an existing stud wall  fix the panel over the existing plasterboard. For the best results remove one side of the plasterboard. Replace the existing insulation with DFM acoustic insulation. Fasten the Soundbreaker Bars to the stud frame and then fix the Noisestop1+ Panel to the bars.
To soundproof a party wall we recommend using this soundproof Panel as part of a combination of products. Noisestop Systems supply wall soundproofing kits that we recommend for use on party walls, Wall System 1 or Wall System 2.
Fitting the Panel to Ceilings
Use this board to overboard existing ceilings. Alternatively this panel can be combined with other products to offer higher levels of soundproofing. Combine with DFM acoustic insulation and soundbreaker bars. Noisestop Systems supply complete ceiling kits which utilise this panel, Ceiling System 1, Ceiling System 2 and Ceiling System 3.
Direct to wall soundproofing comparison table
Direct to wall soundproofing solutions
| Product | Type of noise | Systems thickness | Noise reduction |
| --- | --- | --- | --- |
| | | | |
| Noisestop Acoustic Panel | Clearly audible noise, loud conversation | 22.5mm | 50dB |
| Noisestop1 | Low level noise, for higher results results use as part of a wall system | 15mm | 39dB |
| Noisestop1+ | Low level noise, for higher results results use as part of a wall system. Supplied with all our soundproofing kits | 18mm | 42dB |
| Noisestop2+ | General domestic background noise improved performance | 30mm | 48dB |
| Noisestop2 | Normal conversation and background noise | 28mm | 45dB |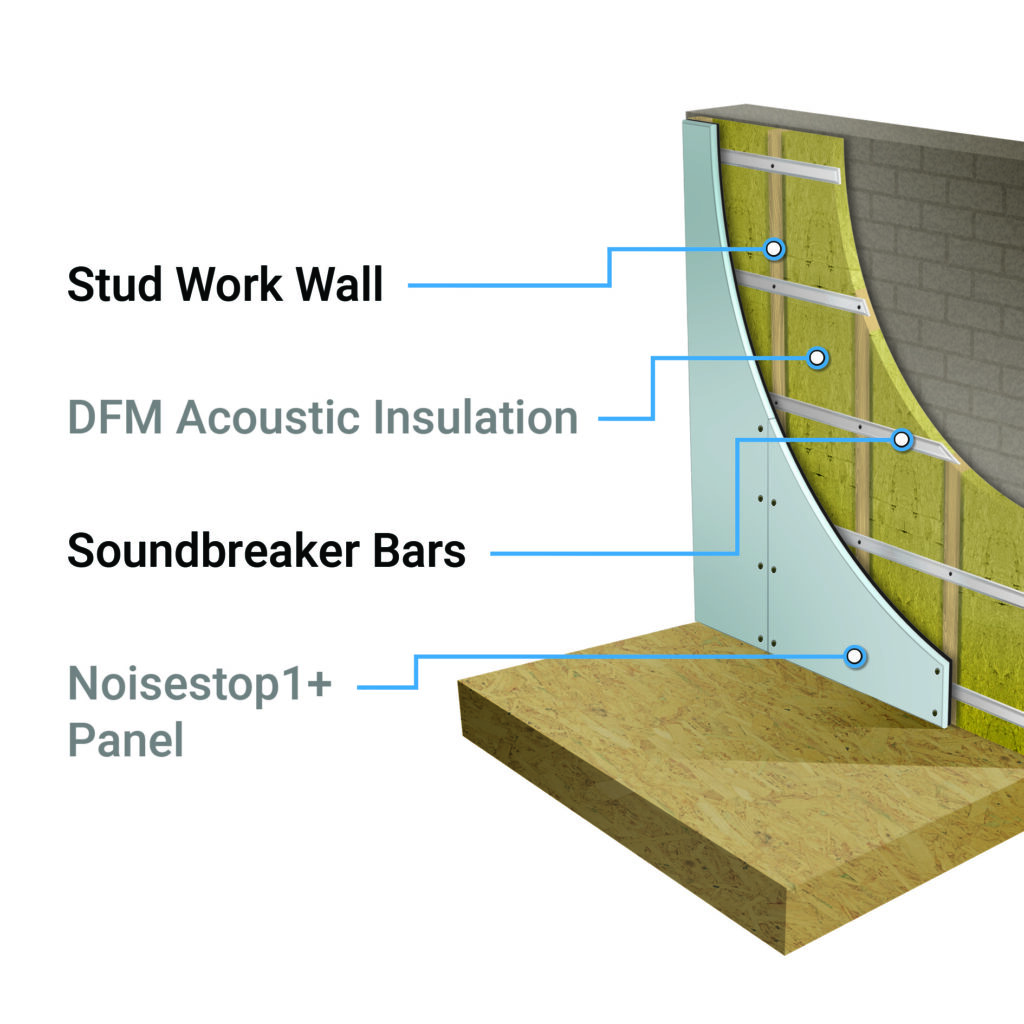 For enquiries please call 01423 339163, or send us a message via our contacts page.