Description
Our busy schedules mean we are subjected to noise in our workplaces and in our homes. Constantly being surrounded by noise can cause stress and anxiety. That is why we have developed a range of soundproofing products to restore peace. The Noisestop 1+ Panel offers a soundproof solution for low-level background noises applied to ceilings and walls. Once this panel is combined with other acoustic products and incorporated into a soundproof system, you will get increased levels of sound insulation for the very best possible levels of noise reduction.
We incorporate the Noisestop 1+ Panel within most of our soundproofing systems for walls and ceilings.
This panel is the best choice for combining materials in a soundproofing system for your walls and ceilings. When integrating soundproofing products into a system, you don't need the thickest or the heaviest products; these tend to be more expensive. The most important consideration is how it works alongside the other materials. It is the combination of soundproof materials that is important rather than any single product. We chose to use this panel in our systems because it is the slimmest, economical to purchase and offers the same performance when combined into a system as the more expensive stand-alone soundproofing panels.
Noisestop 1+ Panel Specifications
Panel thickness 18mm
Panel size 1200mm x 1200mm (1.44sqm)
Noise reduction 42dB
Weight 27kg (18.75kg/m²)
Fire rating 30 minutes
Reduce airborne sounds through your walls (muffled conversation, background TV noise)
Apply directly onto solid walls, stud walls and ceilings
Skim directly onto the panels, alternatively tape and fill the tapered edge
Composition of the Noisestop 1+ Panel
12.5mm soundblock plasterboard, tapered edge. Ready to plaster skim or tape and fill the tapered edge
10kg/m² mass loaded vinyl barrier mat, soundproofing qualities similar to lead
The Noisestop 1+ Panel comes pre-laminated, combining the soundproof membrane and the acoustic plasterboard. Because the product is already bonded it makes for a much easier and quicker installation rather than having to apply the membrane separately as with other systems.
The product's composition ensures it will block airborne sound. For the best results, combine with other soundproofing products to form a soundproofing system. For the best levels of sound reduction, use a combination of materials that incorporate the Noisestop 1+ Panel.
Fitting Noisestop 1+ Panel
This image shows the Noisestop 1+ panel as part of a wall soundproofing system combing, acoustic insulation, and hangers. This is the best way to use the Noisestop 1+ Panel when installed as part of a complete system.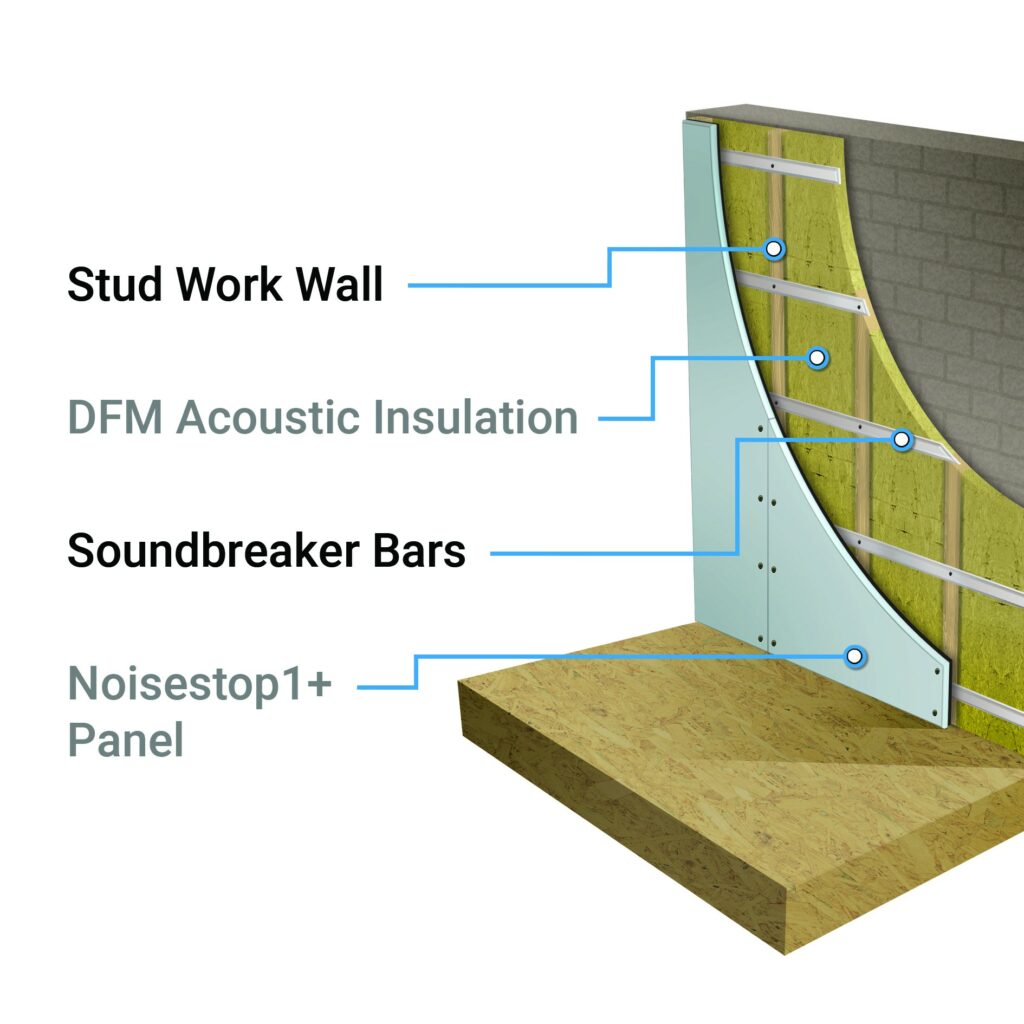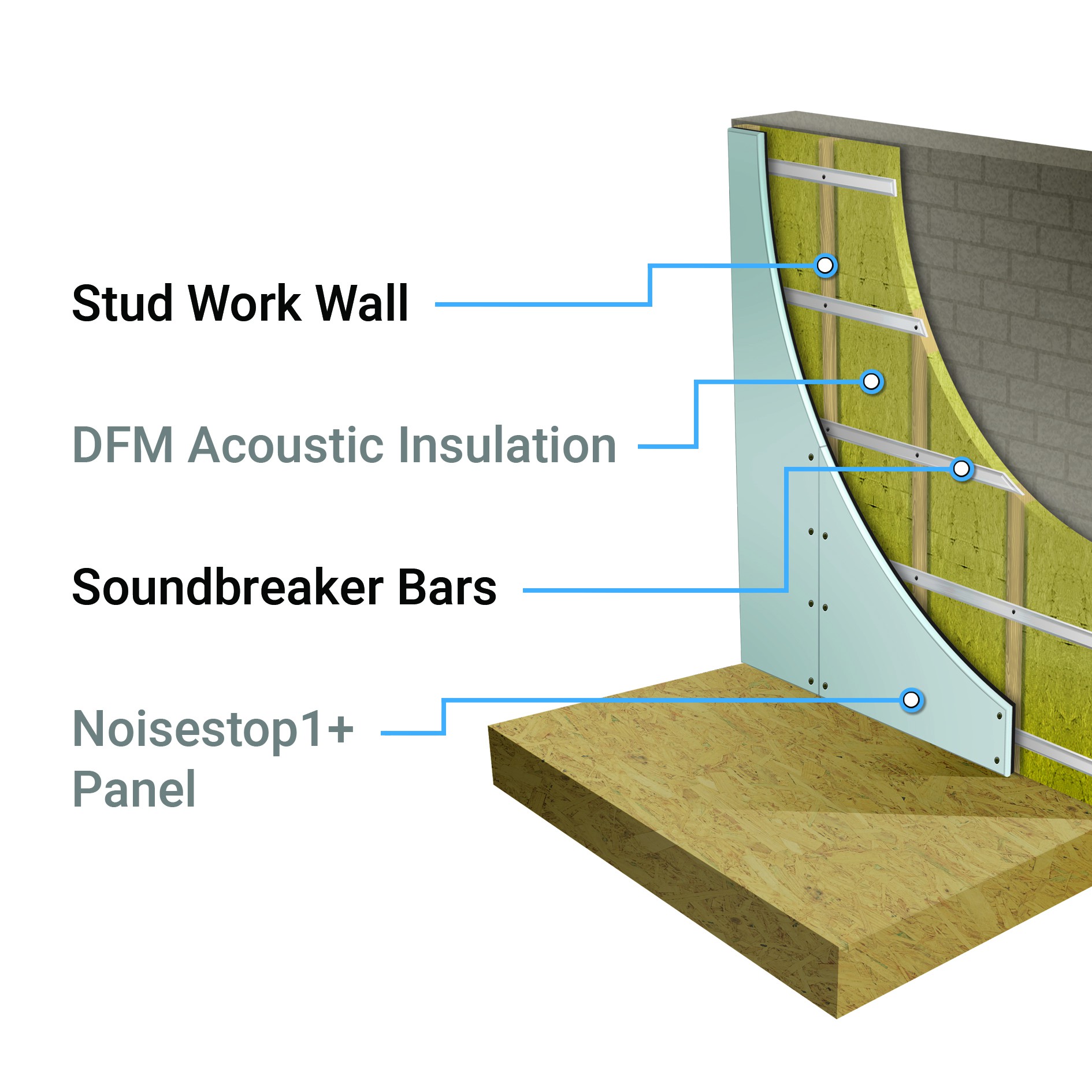 NOTE: When the panel is installed, the plasterboard layer faces into the room, and the acoustic membrane on the back of the board goes onto the wall or ceiling. This panel is best suited for use with acoustic hangers, soundbreaker bars or timber and metal stud frames to form an acoustic system for walls and ceilings.
The Noisestop 1+ Panel works best when installed as part of a complete system for walls or ceilings.
Ensure the surface you are applying the panels is in good condition, make good any remedial work to the existing wall to ensure it is flat and secure before you attach the panels
Remove skirting boards, coving and extend electrical outlets, wall linings such as wallpaper do not need to be removed before the installation.
Fix the panels to acoustic hangers, stud frames or ceiling joists using standard dry-wall screws. You should use Hammer Fixings, nine per board to fit the boards directly onto solid walls; alternatively, use the Smart Tack adhesive for flat finished walls, one tin per five boards.
Leave a 2-3mm gap around the perimeter of the wall to reduce flanking sound transmission, apply an acoustic sealant to fill the gap once the installation is complete.
Cut the panels using a hand saw or circular saw.
Skim plaster or tape and fill the tapered edge.
Upon completion of the soundproofing, reinstate the skirting and coving.
If you are reinstating electrical outlets, use acoustic putty pads inside recessed back boxes.
NOTE ON FLANKING SOUND – Before installing any soundproofing system, it is important to consider any flanking paths for the sound. These are areas around the wall where sound will bypass the soundproofing and enter the room. The most common flanking path for sounds would be above or below the wall, this would be through a floor or ceiling cavity. If these areas are constructed from timber joists, you should consider filling the cavities above or below the area with DFM acoustic insulation to stop potential flanking noise.
Direct to wall soundproofing solutions
| Product | Type of noise | Systems thickness | Noise reduction |
| --- | --- | --- | --- |
| | | | |
| Noisestop Silent Panel | Loud airborne sounds including loud voices and barking dogs | 30mm | 52dB |
| Noisestop Acoustic Panel | General domestic household noise, including conversation, TV and radio noise | 22.5mm | 49dB |
| Noisestop 2 Panel | Low-level conversation and background noise | 28mm | 46dB |
| Noisestop 1+ Panel | Low-level noise, for higher results, is used as part of a wall system. Supplied with all our soundproofing systems | 18mm | 42dB |
Noisestop 1+ Panel Used in Wall and Ceiling Soundproofing Systems
Party Wall Soundproofing Solutions
Stud Wall Soundproofing Solutions
Ceiling Soundproofing Systems
Frequently Bought Together
Click on the image to download the information
Wall and Ceiling Soundproofing
Make sure you are getting the right soundproofing for your needs. Understanding the most common types of noise and how to stop them will help you decide the right solution.
Different Types of Sound
Airborne sounds – Conversation, TV noise and radios are examples of airborne sound. The best way to stop airborne sounds is to add mass/density to the walls or ceilings.
Impact/vibration sounds – Footfall and moving furniture across a floor are examples of impact sounds. The best way to reduce these sounds is to create separation.
In summary, the best way to reduce airborne sounds is by increasing the mass of the area you would like to soundproof. Reducing impact/vibration sounds is achieved by creating separation within the structure.
Reducing Impact and Airborne Sounds
By following some of these steps, you will ensure you get the best level of soundproofing for your room.
Mass/Density – Increasing the mass and density of the area you are soundproofing will block airborne sounds from transferring between rooms. You will increase the mass of walls and ceilings using materials such as soundproof panels or high-density acoustic insulation slabs.
Separation – Incorporating separation within the structure will reduce vibration and impact sounds transferring between rooms. Achieve separation by building independent stud walls and ceilings. If you don't have the space in the room, you can use acoustic clips and resilient channels to decouple the wall and ceiling.
Absorption – Use materials that are going to absorb sounds. Acoustic insulation is suitable for sound absorption as it converts the sound waves into heat as it passes through the insulation. Dense mass loaded barriers will also dampen and absorb sound.
For help and advice, get in touch, speak to an adviser, call 01423 339163. Alternatively, please send us your enquiry.