How to Soundproof Walls
Find out how to soundproof a wall to suit the most common noise problems in domestic properties. How to sound proof walls against noisy neighbours. If you live in a terraced or semi-detached property wall soundproofing might be your only option to reduce unwanted neighbour noise. If you live in a detached property you might want to increase privacy in your own home by increasing the sound insulation between rooms by soundproofing your stud walls. Various solutions are available depending on the type of noise. Noisestop Systems provide various sound insulation for walls solutions depending on the type of wall and whether it is airborne or impact noise you are trying to stop.
View our complete range of wall soundproofing products.
Is it airborne or impact noise?
Airborne Sound – This occurs when a sound transfers directly from a source to the receiver. Small holes or openings in the construction, or through wall structures. Airborne noises are conversation, TV noise, music, barking dogs.
Impact Sound – Impact noise is structural vibration, transmitted from a point of impact through a structure. Experienced as radiated sound from a vibrating surface. This is commonly caused by an item hitting the floor. From where the impact results in vibrations being transferred through the buildings structure. Impact noises are footfall, dropping items on the floor, children running.
Soundproof a wall by increasing the mass and density
Before you begin soundproofing your walls it helps to understand the basics to soundproofing. Increasing the mass and density of the wall will increase the level of sound insulation for walls. Separation is also another key factor in achieving the best levels of sound insulation between rooms. Soundproof a wall to stop airborne sound by increasing the mass and density, use DFM acoustic insulation slabs inside an existing or new stud frame. Applying soundproof panels, acoustic plasterboard with mass loaded sheets will significantly increase the mass and density of brick and stud walls. Use Soundbreaker bars to create separation in your walls. This will be outlined further in this guide.
Soundproof your walls using a complete wall soundproofing solution for high levels of sound insulation
Whats the best method of soundproofing my walls? We always offer the same advice. If you want to stop the most amount of noise from a neighbouring property use an acoustic wall system that combines the right combination of materials. This method does take up a little more space in the room, but if you can loose up to 10cm then this is the best method of soundproofing a wall. If you can leave a small gap of 10mm between the existing wall and the new wall you will reduce the sound transfer between the two walls.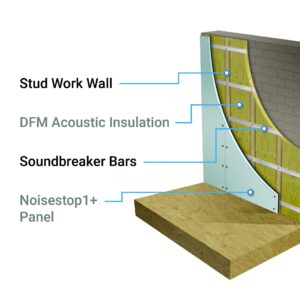 Wall System 1
Use Wall System 1 to soundproof party walls when a high level of soundproofing is required. This system is approximately 85mm thick.
Use Wall System 1 to stop high levels of sound transfer through your walls
Soundproof party walls and convert stud walls
Reduce airborne and impact noise
Part e compliant solution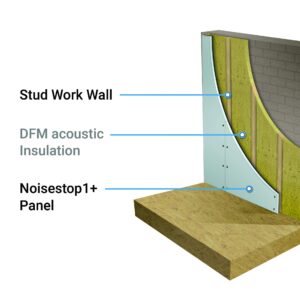 Wall System 2
Use Wall System 2 to soundproof party walls to stop medium/high levels of sound, but space loss has to be kept to a minimum. This system is approximately 43mm thick.
Use Wall System 2 to stop medium/high levels of sound transfer through your walls
Soundproof party walls and keep space loss to a minimum
Reduce airborne noise
Part e compliant solution
Use Acoustic insulation slabs inside your stud frame to reduce airborne sounds
Use  acoustic insulation slabs between an existing stud frame to achieve the best levels of soundproofing. Do not use thermal insulation rolls for this as they are low in density which means they will not block and absorb the airborne sounds. DFM acoustic insulation slabs will increase the sound insulation of stud walls and party walls.
Install DFM acoustic insulation slabs, the slabs are compressed to increase the density of the insulation which means they are suitable for use as an acoustic infill inside a stud frame. DFM insulation is supplied in 1200mm x 600mm slabs. The range in density is between 45kg/m³ up to 140kg/m³. Slabs are supplied in a range from 25mm up to 100mm thick.
The thickness and density of acoustic insulation you use can vary on the depth of stud you are using. Avoid compressing acoustic slabs between the plasterboard. Always ensure that there is a gap between the insulation and the plasterboard. Once you have determined the depth of the stud frame choose which density you are going to use. We would recommend that for most domestic applications a mid range density slab would be sufficient. The soundproofing properties of this type of product work on a diminishing scale, after 100kg/m³ the additional performance is negligible. Using slabs around the 80kg/m³ are probably the best value.
Soundbreaker bars will reduce sound transferring through walls
Soundbreaker bars are an acoustic hanger designed to be attached to a stud frame. The unique design of the soundbreaker bars reduces sound transmission through the walls structure, reducing impact and airborne sounds. Most new build and conversion projects use this type of acoustic hanger as part of the new wall construction. Plasterboard can be fixed directly onto the bars rather than directly to the stud frame. The bars separate the board from the frame and reduce surface area contact, they also absorb vibration reducing airborne and impact sounds transferring through the wall.
Reduce noise from noisy neighbours with a thinner solution
Direct to wall solutions offer a good level of soundproofing against domestic airborne sounds (conversation coming through the wall). A popular choice for homeowners as they can applied directly to the wall, so space loss is kept to a minimum. These wall soundproofing solutions are very popular for use in rooms that can not afford the space loss required if you used a complete wall soundproofing system.
Our slim direct to wall soundproofing solutions include, Noisestop Acoustic Panel, Noisestop2 and Noisestop2+ panels. You will not need any other products to soundproof a party wall against medium levels of sound between rooms, conversation or background TV noise. These soundproof panels can be used to increase the sound insulation of our wall soundproofing systems.
The Noisestop2 and the Noisestop2+ panel are bonded to the wall using plasterboard adhesive. Use screws or a strong contact adhesive or heavy duty spray adhesive to fix the  Noisestop Acoustic Panel to the wall.
Plaster or tape and fill the panels, ready for decorating once installed.
Key Points to Soundproofing a wall
When you are considering wall soundproofing the key areas to determine are firstly the type of wall. Are you soundproofing a stud wall or a brick party wall? In short the answer is the same, increase the mass and density of the wall and create separation.
Increase wall mass using high density products, acoustic plasterboard combining high density barriers increases the mass of walls.
Increase separation by using false wall systems which reduce sound transmission. Use Soundbreaker bars on stud frames to effectively increase sound insulation.
A combination of materials will offer higher levels of soundproofing for existing stud walls and new party wall solutions. Using acoustic insulation, bars and high mass soundproofing panels will ensure good levels of soundproofing.
Soundproofing for your internal stud walls
Lots of homes and offices use stud walls to separate rooms. The light weight structure of this type of wall means sound can easily transfer between the rooms. To soundproof stud walls you need to increase the mass and density and create separation.
If you are soundproofing an existing stud wall you can choose to install one of our slim wall panels to the wall surface. The boards can be screwed directly into the stud frame, the Noisestop Acoustic Panel, Noisestop1 and Noisestop1+ panels are a good choice for this method of soundproofing. This will work for low to medium levels of soundproofing, if you need a little more soundproofing you will need to increase the insulation inside the wall.
The best method of soundproofing your stud walls is to remove the plasterboard form one side and use DFM acoustic insulation slabs inside the cavity. Once the wall is filled attach soundbreaker bars to the stud frame at 600mm centres. Finish your wall with one of the wall panels, in the kits we provide we supply the Noisestop1+ board.
We have a range of kits to soundproof a stud wall to suit the thickness of your existing stud frame, Stud Wall kit 50mm, Stud Wall kit 75mm, Stud Wall Kit 100mm. You can use these kits to upgrade existing stud walls, alternatively you can use them against a party wall.
Flanking noise
When you are considering soundproofing a wall you should consider flanking noise. Flanking noise is a potential path for sound to transfer between floor and ceiling cavities.
To reduce flanking sound transfer in these areas you should fill the floor and ceiling void with acoustic insulation. Using the DFM acoustic slabs fill the void as much as possible up against the wall. The slabs are 600mm wide, this is how far back into the room you will need to come. Doing this in these areas will act as a plug to stop sound that might be coming through these voids.
Frequently asked questions about wall soundproofing
Q. Do I soundproof my chimney breast and the alcoves?
A. You do not need to soundproof your chimney breast, the alcoves are usually the areas that need soundproofing. Chimney breasts have extra layers of brick which will stop the sound through that area.
Q. Can I hang pictures and shelves on my wall once it's been soundproofed?
A. You should be OK to fit light weight things back on to the wall. You should try and avoid fixings that require drilling into the party wall.
Q. Can I decorate straight on to your soundproof panels?
A. Our panels are a plasterboard finish that have a tapered edge, this means you can tape and fill the edges ready for decorating. You can also have them plastered if you prefer.
For enquiries please call 01423 339163, or send us a message via our contacts page.