Description
AcoustiClip Stud Wall is our highest performance soundproofing system. Reduces high noise levels through party walls and is suitable for soundproofing against noisy neighbours and studios. The AcoustiClip is fixed directly to a stud frame, minimising the connection points with the wall and damping sound transfer through vibration—AcoustiChannel clips directly into the AcoustiClip. The acoustic insulation between the channels reduces sound that typically resonates inside the void. To complete the wall, the Noisestop 1+ Panel and the 15mm soundblock plasterboard are screwed into the AcoustiChannel. This soundproofing system will stop high audible sound and vibration levels from transferring through walls.
Soundproof systems will effectively block higher levels of noise than any individual soundproofing product. Combining various products into soundproof systems ensures a higher reduction across a broader range of frequencies, ultimately stopping higher airborne sounds and vibration levels.
Product Specification
System thickness 77mm (from the stud frame)
Noise reduction 69dB
The AcoustiClip Stud Wall System comprises the following materials.
AcoustiClip – Isolates and decouples the wall from the soundproof panels, decoupling the new wall
AcosutiChannel – Metal furring channel to attach the soundproof boards
Acoustic insulation – Adds mass and absorption to reduce airborne sound transfer
Noisestop 1+ Panel 18mm – Acoustic plasterboard 12.5mm with a layer of 10kg mass loaded vinyl membrane to increase mass and dampen sound and vibration energy
Acoustic plasterboard 15mm – More mass than standard plasterboard
Acoustic sealant – Ensure acoustic integrity of the wall by sealing edges and gaps
Thermal Resistance R:
Acoustic plasterboard 12.5 mm = 0.050 m2 K/W
Acoustic plasterboard 15.0 mm = 0.060 m2 K/W
Mass loaded vinyl 0.14 m² K/W
Acoustic insulation 2.90 W/mK
Thermal Conductivity λR:
Acoustic plasterboard 0.25 W/mK to BS EN 12524:2000
Mass loaded vinyl 0.037 W/mK
Acoustic insulation 0.034 W/mK
Reaction to Fire
Acoustic plasterboard 12.5mm & 15mm Euroclass A2-s1, d0
Mass loaded vinyl 10kg EN 13501-1 B-s2,d0 (2)
Acoustic insulation EN13501-1: A1
Performance Data
Untreated brick wall DnT,w
Single skin 100mm brick wall 38db
Treated brick wall DnT,w
AcoustiClip Solid Wall Stud System 69dB
Improvement DnT,w
Noise reduction with treatment 31dB
Note: Every 10 decibels(dB) reduction in noise level is roughly perceived as a halving of the perceived loudness. So, for instance, if you have a sound that measures 70dB and it decreases to 60dB, it would sound about half as loud to the human ear.
AcoustiClip Solid Wall Stud System Products
Take a look at the individual components supplied when you buy this solution. The product quantities have been based on walls that are 2.4m high. The wall requires five rows of AcoustiClips starting no more than 75mm from the floor. Each AcoustiClip can be spaced up the wall a maximum of 600mm. This will mean you will have five rows of AcoustiClips for walls that are 2.4m high. Each AcoustiClip can be spaced a maximum of 1200mm horizontally. For example, a 10sqm wall at 2.4m high would be 4.16m long. A clip is fitted at the start and the end of each row. For a 4.16m long wall, you would need five clips horizontally and five rows of clips spaced at a maximum of 600mm vertically up the wall. This means you would require 25 clips for a 10sqm wall that is 2.4m high.
Fitting AcoustiClip Solid Wall Stud System
NOTE – The isolation strips and acoustic putty pads are not supplied as part of the system; you can buy these separately.
If space allows, always build a soundproof wall without connection to the existing wall. A small gap of 10mm is sufficient to reduce sound transfer through any physical links. Attaching your new stud frame to the ceiling, floor and return walls will help to minimise points of contact directly into the wall.
NOTE ON FLANKING SOUND – Before installing any soundproofing system, consider any flanking paths for the sound. These are areas around the wall where sound will bypass the soundproofing and enter the room. The most common flanking course for sounds would be above or below the wall, which would be through a floor or ceiling cavity. If these areas are constructed from timber joists, you should consider filling the void above or below the area with DFM acoustic insulation to stop potential flanking noise.
Spacing AcoustiClips
Horizontally – Fix an AcoustiClip at the start and the end of each row. Acousticlips can be spaced at a maximum of 1200mm centres across the wall.
Vertically – AcoustiClips are fitted a maximum of 600mm up the wall. 75mm from the bottom and 150mm from the top of the wall.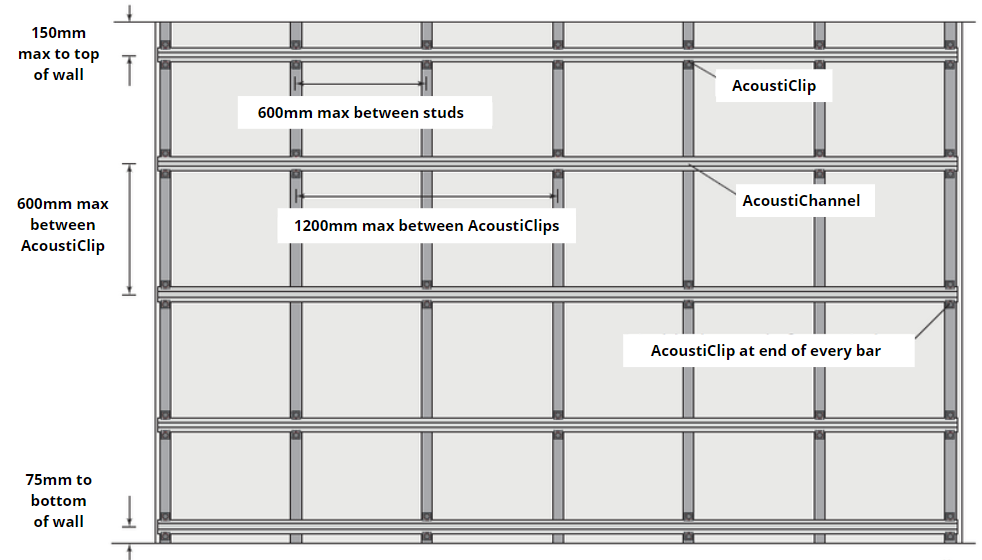 Alternative solutions that will offer different levels of soundproofing or another kind of installation method that might suit your requirements.
Essential Soundproofing Rules
Achieve the very best wall soundproofing results by following these essential soundproofing rules. These are adding mass/density to the area, isolating or decoupling the new structure from the existing and increasing sound absorption. These rules of soundproofing apply whether you are attempting to soundproof a stud wall or solid brick walls. Increasing mass makes it harder for the sound to transfer. The variety of high-mass products will block a great range of sounds. Decoupling the structure will reduce sound as it vibrates through a solid structure. Increasing absorption allows the wall to absorb the sound energy. These soundproofing principles are built into the design and specification of our wall soundproofing products and systems.
Mass/Density
Adding mass/density to an area blocks sound transfer. Using materials with different densities will reduce a greater range of frequencies.
Isolation
Creating isolation or decoupling the existing structure from the new enhances sound insulation.
Absorption
Increase sound absorption with materials that absorb sound waves and reduce the energy that carries the sound.
Please send us your enquiry, and one of the team will get back to you.