How to Soundproof a Party Wall
How to soundproof a party wall, find the best method to soundproof a party wall? Noisestop Systems provide party wall solutions that increase the sound insulation of this type of wall. Increase the sound insulation for walls with either acoustic wall panels or wall soundproofing kits. Wall System 1 and Wall System 2 combine soundproof wall insulation and acoustic wall panels to soundproof a party wall.
View our complete range of wall soundproofing products.
Thin Party Wall Soundproof Panels Noisestop2, Noisestop2+ and Noisestop Acoustic Panel
Use thin direct to wall soundproof panels to effectively sound insulate a party wall. Thin wall soundproofing solutions are very popular when soundproofing a room that requires minimal space loss. Wall soundproofing with this type of soundproof panel will mean less than 45mm space loss to the room. Soundproof party walls to stop TV noise, conversation and other forms of low level domestic airborne noises.
Noisestop Acoustic Panel
Soundproof party walls with this thin effective wall soundproofing panel. At only 22.5mm thick it is one of the thinnest and best performing soundproofing panels available.
Direct to wall solution
Add to a stud frame for increased acoustic performance
DIY friendly quick and easy to install
Once installed can be plastered
Thin wall soundproofing panels to insulate a party wall
The Noisestop Acoustic Panel is out thinnest direct to wall soundproofing product. An excellent option for party walls offering very high levels of sound reduction and only 22.5mm thick. Screw this panel directly into a party wall, the acoustic foam and rubber to the back of the board stop sound transferring through the screws.
The Noisestop2 and Noisestop2+ is applied directly onto to the wall surface using plasterboard adhesive. With space loss of up to 45mm these panels keep space loss to a minimum while offering good levels of noise reduction. When installing the boards you should seal the edges of each panel with an acoustic sealant, this will ensure a soundproof seal once the panels are installed. Once the panels are installed and sealed apply a plaster finish to the face of the boards.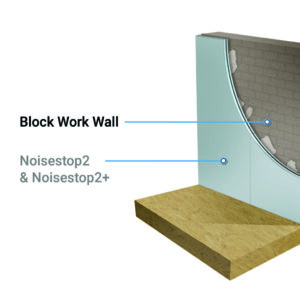 Noisestop 2 & Noisestop2+ Panels
Party wall soundproofing panels that can be bonded directly to a party wall. Suitable for stopping low level noise through your walls.
Bond directly on to your walls
DIY friendly quick and easy to install
Once installed can be plastered
Acoustic Wall Systems for Effective Sound Insulation for  Party Walls
Acoustic wall systems or false walls are combinations of products combined to offer the highest levels of wall soundproofing. Reduce high levels of sound generated by noisy neighbours, loud music, shouting and barking dogs. Wall soundproofing systems work in two ways. Increase the mass of the wall and create separation, this effectively increases the sound insulation of the wall.
Wall System 1 Offers High Levels of Soundproofing When Applied to a Party Wall
A thicker solution than soundproof panels, but an overall better level of soundproofing. Wall System 1 is our thickest party wall solution at around 85mm. This system utilises DFM, Soundbreaker Bars and the Noisestop1+ boards. Improve the level of soundproofing by installing this system with a 25mm gap between the existing wall and the new wall. Use this system to stop high levels of neighbour noise through a party wall.
Wall System 1
For excessive levels of sound through a party wall use Wall System 1. An effective solution to increase the sound insulation between properties.
This is our recommended method of soundproofing a wall
The combination of materials supplied with this system ensure excellent levels of soundproofing
Plaster the wall to finish or tape and fill the edges
Wall System 2 is a Thinner Soundproofing Solution with Good Soundproofing Results
A thinner solution is Wall System 2 which is 45mm thick. Use Wall System 2 when a high level of soundproofing is required but a minimal amount of space can be lost. Increase the level of soundproofing by using soundbreaker bars to improve the sound reduction.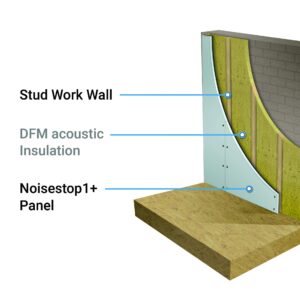 Wall System 2
Use this system to soundproof a party wall when you need the most amount of soundproofing out of a small amount of space.
Effective party wall soundproofing under 45mm
Thinnest party wall soundproofing system
Plaster the wall to finish or tape and fill the edges
Soundproofing a Bedroom Wall Use Wall System 1 if Possible
Use Wall System 1 to soundproof a bedroom wall if you are being disturbed at night. Background noise levels at night are lower than during the day, which means sound is more audible. Wall System 1 offers the highest level of noise reduction so use when possible to soundproof a party wall in a bedroom.
NOTE: When installing any acoustic wall system you should fix the new acoustic wall to the floor, ceiling and adjacent walls. If you fix the new wall to the party wall it can increase the level of sound transferring into the new soundproof wall.
Flanking Noise How to Stop it
Treating flanking noise is important when undertaking any soundproofing work to a party wall. Sound transferring around a wall can reduce the overall effectiveness of the party wall soundproofing. Using the DFM insulation inside floor and ceiling cavities is the best way to treat this problem. Lifting the floorboards against the party wall and inserting DFM 100/80kgm³ between the joists, coming back from the wall around two feet should reduce any flanking noise issues.
For more information on wall soundproof products, take a look at Noisestop Systems complete wall soundproofing range.
We hope this page has helped you decide how to soundproof a party wall. For more help on soundproofing, we have further information on how to soundproof a room, how to soundproof floors and how to soundproof ceilings.
For enquiries please call 01423 339163, or send us a message via our contacts page. FREE Nationwide delivery on orders over £750ex.VAT