Description
Noisestop Acoustic Underlay is a heavy duty overlay mat that provides excellent impact sound reduction against footfall and also helps minimise airborne sounds. Only 12mm thick, the soundproof underlay has minimal impact on the floor build up. The product Combines acoustic grade closed cell foam with mass loaded vinyl. The mates are easy to install as they are loose laid over the floor and can be cut to size using a sharp knife. The dual layer means you can apply the mats foam side up for carpeted floors and foam side down for hard floor finishes. Noisestop Acoustic Underlay is suitable for use on its own or as part of a complete soundproof floor system compliant with Part E Regulations.
Product Specification
System thickness 12mm
Noise reduction 

Airborne noise 51dB
Impact noise 54dB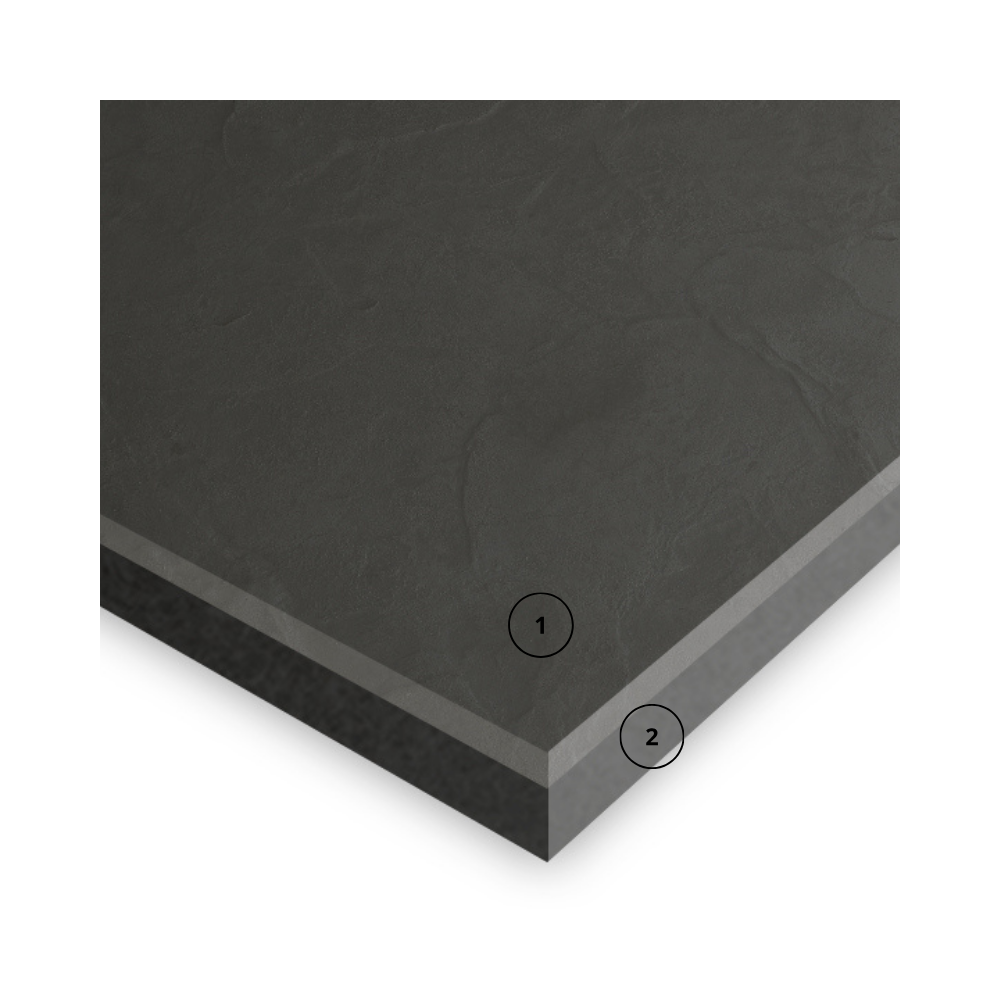 The Noisestop Acoustic Underlay comprises the following materials.
Mass loaded vinyl 7.5kg/3mm – High mass barrier layer for sound absorption.
 Closed cell foam 9mm  – Acoustic grade foam to dampen and absorb vibration sound.
Thermal Resistance R:
Closed Cell Foam: 0.23 m² K/W
Mass loaded vinyl 0.14 m² K/W
Thermal Conductivity λR:
Closed Cell Foam: 0.039 W/mK
Mass loaded vinyl 0.037 W/mK
Reaction to Fire
Closed Cell Foam: FMVSS 302
Mass loaded vinyl 10kg EN 13501-1 B-s2,d0 (2
Noisestop Acoustic Underlay Benefits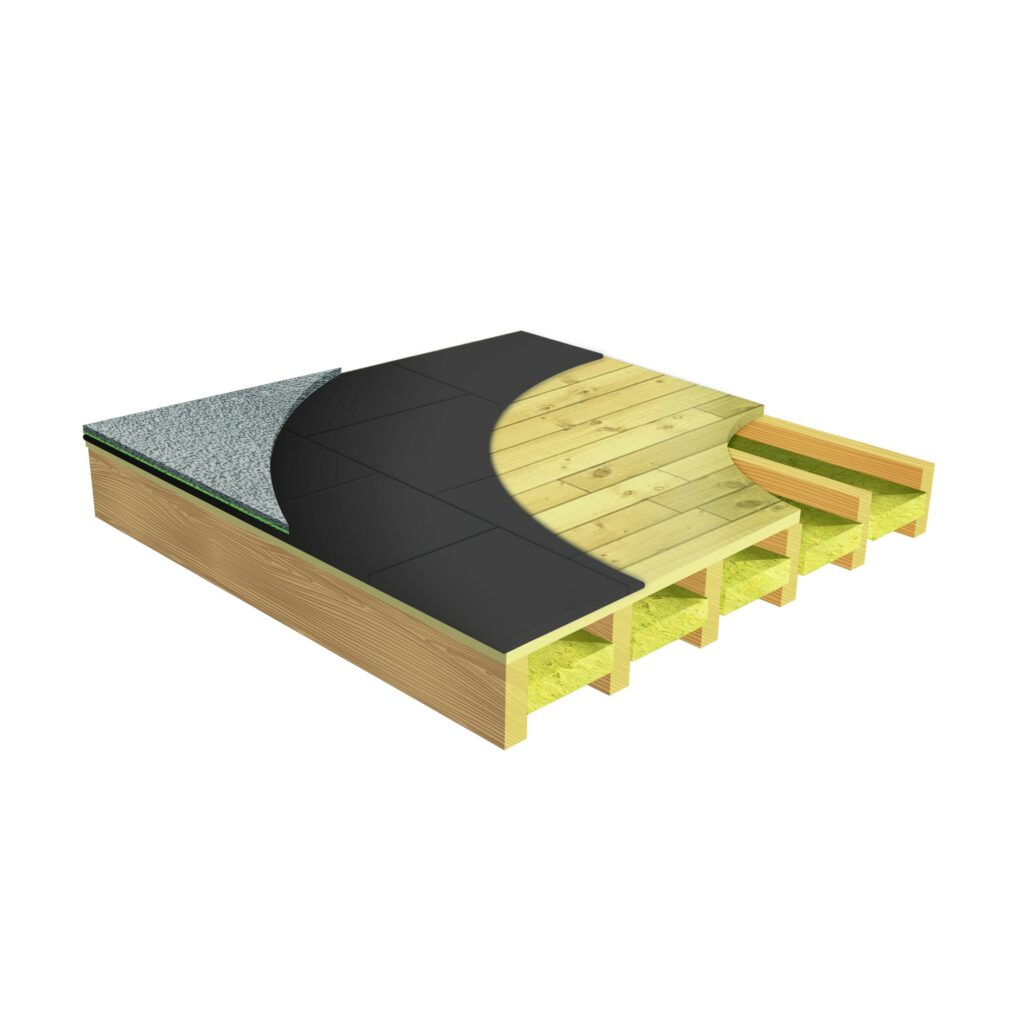 Noisestop Acoustic Underlay will offer a good level of reduction over standard floor constructions. When used as part of a flooring system for Building Regulations will ensure Part E compliance for new builds and conversions.
According to the figures, the Noisestop Acoustic Underlay reduces airborne and impact sounds by reducing 51dB for airborne sounds and 54dB for impact sounds. This solution not only meets Part E compliance standards, but it also effectively blocks clear airborne sounds and impact noises.
Note: Every 10 decibels(dB) reduction in noise level is roughly perceived as a halving of the perceived loudness. So, for instance, if you have a sound that measures 70dB and it decreases to 60dB, it would sound about half as loud to the human ear.
| | |
| --- | --- |
| Airborne DnT,w + Ctr (dB) | Impact L'nT,w (dB) |
| 51 | 54 |
Floor Finishes
Carpet as the floor finish
Noisestop Acoustic Underlay can be used directly below the carpet. When installing the underlay, you should consider using the perimeter edging strip to ensure the gripper rods are at the same height as the carpet. The gripper rods and the perimeter edging should be nailed to the floor using a 30mm nail.
Hard floor finishes less than 15mm
Hard floor finishes, including laminate, engineered, and tiles, should use a resilient layer between the soundproofing and the floor finish. We recommend a sheet material such as ply or interlocking MDF. the layers are secured using a floor-grade adhesive such as Isobond floor adhesive. To prevent potential flanking sound from transmitting from the floor to the walls, isolate the flooring using isolation tape fixed to the wall.
Hard floor finishes more than 15mm
Floor finishes over 15mm can be installed directly on the soundproof mats. Secure the flooring using the Isobond adhesive. To prevent potential flanking sound from transmitting from the floor to the walls, isolate the flooring using isolation tape fixed to the wall.
Fitting Noisestop Acoustic Underlay
Laid directly over the existing sub-floor
Loose laid no requirement to bond to the floor. Part E requires bonding for new builds and conversions.
Butt the edges together
Reduce movement with High Tack Tape along the joins
Cut to size using a sharp knife or a fine toothsaw
Frequently Bought Together
Floor Soundproofing
Make sure you are getting the right soundproofing for your needs. Understanding the most common types of noise and how to stop them will help you decide the right solution.
Different Types of Sound
Airborne sounds – Conversation, TV noise and radios are examples of airborne sound. The best way to stop airborne sounds is to add mass/density to the walls or ceilings.
Impact/vibration sounds – Footfall and moving furniture across a floor are examples of impact sounds. The best way to reduce these sounds is to create separation.
In summary, the best way to reduce airborne sounds is by increasing the mass of the area you would like to soundproof. Reducing impact/vibration sounds is achieved by creating separation within the structure.
Reducing Impact and Airborne Sounds
By following some of these steps, you will ensure you get the best level of soundproofing for your room.
Mass/Density – Increasing the mass and density of the area you are soundproofing will block airborne sounds from transferring between rooms. You will increase the mass of walls and ceilings using materials such as soundproof panels or high-density acoustic insulation slabs.
Separation – Incorporating separation within the structure will reduce vibration and impact sounds transferring between rooms. Achieve separation by building independent stud walls and ceilings. If you don't have the space in the room, you can use acoustic clips and resilient channels to decouple the wall and ceiling.
Absorption – Use materials that are going to absorb sounds. Acoustic insulation is suitable for sound absorption as it converts the sound waves into heat as it passes through the insulation. Dense mass loaded barriers will also dampen and absorb sound.
For help and advice, get in touch, speak to an adviser, call 01423 339163. Alternatively, please send us your enquiry.