Description
Ceiling System 2
Ceiling System 2 is our most popular ceiling soundproofing solution because it offers excellent airborne and impact sound reduction. With only minimal loss of ceiling height, Ceiling System 2 achieves high levels of noise reduction thanks to a clever combination of materials. The kit offers:
Noise reduction against airborne and impact sound
56dB reduction for airborne sound
30-minute fire protection
DIY soundproofing solution
Part E compliant for separating floors
Noise reduction and decibels – A three dB increase is equivalent to halving the level of sound. The higher the value for the airborne sound the better the product performs. The lower the stated figure for impact sound the better the product performs. Read the decibels explained guide for more help.
The Ceiling System 2 delivers:
A layer of 100mm DFM acoustic insulation to block and absorb airborne sound transfer through the ceiling.
The separation, which is key to ceiling soundproofing, is created by fitting the soundbreaker bars, acoustic hangers that reduce vibration through the structure of the building. The final layer of boards is applied fixed directly into the soundbreaker bars.
The Noisestop 1+ panels supplied as part of this solution combining a 12.5mm acoustic plasterboard and a 10kg mass vinyl sheet. The resultant panel blocks sound and reduce vibration through the plasterboard. When the full solution is combined, both impact and airborne sound are greatly reduced.
We have put these soundproofing systems together as examples of combinations of products you can use to soundproof a room. You can use various combinations to suit your requirements, whether you are looking for additional sound control or you might have a bit of extra space for a thicker solution.
Feel free to get in touch to discuss your needs with one of the team. We can provide help and advice to tailor the right soundproof system for you, call 014213 339163.
Installation 
With a good understanding of DIY, you'll be able to install this soundproofing system to your ceilings yourself. Our team of friendly experts are on hand to help you choose the right system for your home. We've put together a step-by-step installation guide for Ceiling System 2, and you're always very welcome to get in touch for advice.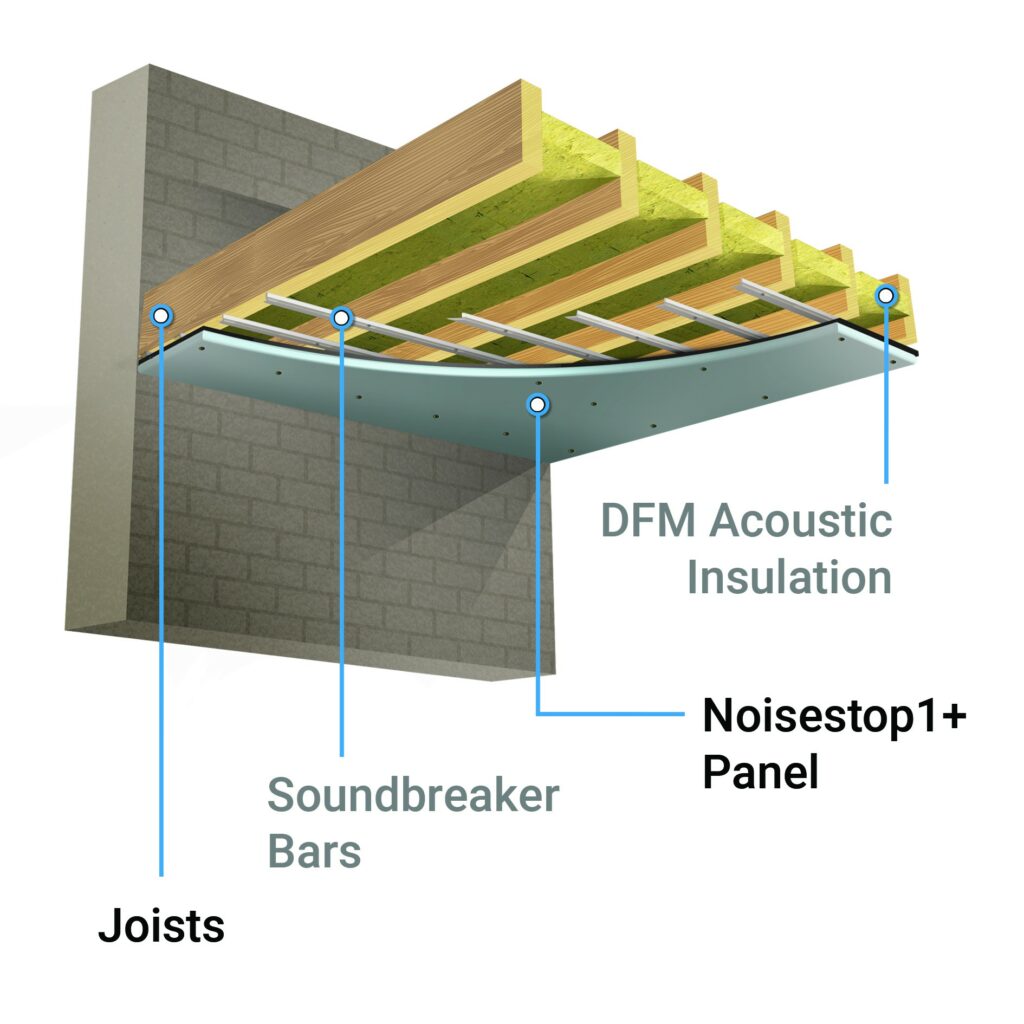 Acoustic Modelling
Noisestop Systems provide acoustic modelling to help design and plan your soundproofing solution. Our acoustic modelling allows us to help you plan how to best soundproof a room. Whether you are looking to soundproof one wall against a noisy neighbour, building a studio or planning for a building Regulation project, get in touch to see how we can help.
We provide homeowners, architects, builders and specifiers with visual and technical information to ensure your soundproofing project meets your requirements.
For more information on this free service call 014213 339163, alternatively, please send us an enquiry.
How to soundproof ceilings – A ceiling soundproofing guide
Need help with your soundproofing call 01423 339163, alternatively send us your enquiry. You can upload any relevant documents such as plans, drawings and pictures.