Description
Wall System 2
Soundproof party walls with Wall System 2 our thinnest wall soundproofing kit. Soundproofing for party walls and alcoves, reduce airborne sounds transferring through your walls.
Wall System 2 combines, 25mm DFM acoustic insulation with the 18mm Noisestop1+ wall soundproofing panel, the overall thickness of this solution 43mm, our thinnest complete wall soundproofing solution. Soundproof a party wall, alcoves and rooms that require sound insulation with a minimal loss of living space.
We recommend when you are increasing the noise reduction of a wall different combinations of acoustic products will result in a better level of sound insulation of the wall. Block and absorb sound by combining materials, different densities and acoustic absorption properties of the individual products within Wall System 2 ensure high levels of soundproofing.
Wall System 2 is suitable to use on any type of wall. Fix 25mm timber battens onto the existing wall at 600mm centres. Infill the cavity between the battens with the DFM acoustic insulation, ensure you completely fill the area. The Noisestop1+ panel is fixed using screws or nails. Seal the edges and perimeter of the new wall with AC50 acoustic sealant. once installed the panels can be plastered and decorated.
Product Information
System thickness 43mm
25mm 100kg/m³ DFM Acoustic insulation
Noisestop1+ panel
Acoustic sealant
Sound Reduction 55dB on a party wall
Wall soundproofing systems comparison table
Product
Application
Systems thickness
Noise reduction on a party wall
Noise reduction for stud walls
Wall System1
Solution for party walls
85mm
60dB
Wall System 2
Solution for party walls
45mm
55dB
Stud Wall Kit 50mm Insulation
Solution for party walls and independent stud walls
95mm including stud frame
61
51dB
Stud Wall Kit 75mm Insulation
Solution for party walls and independent stud walls
120mm including stud frame
63dB
53dB
Stud Wall Kit 100mm
Insulation
Solution for party walls and independent stud walls
145mm including stud frame
66dB
56dB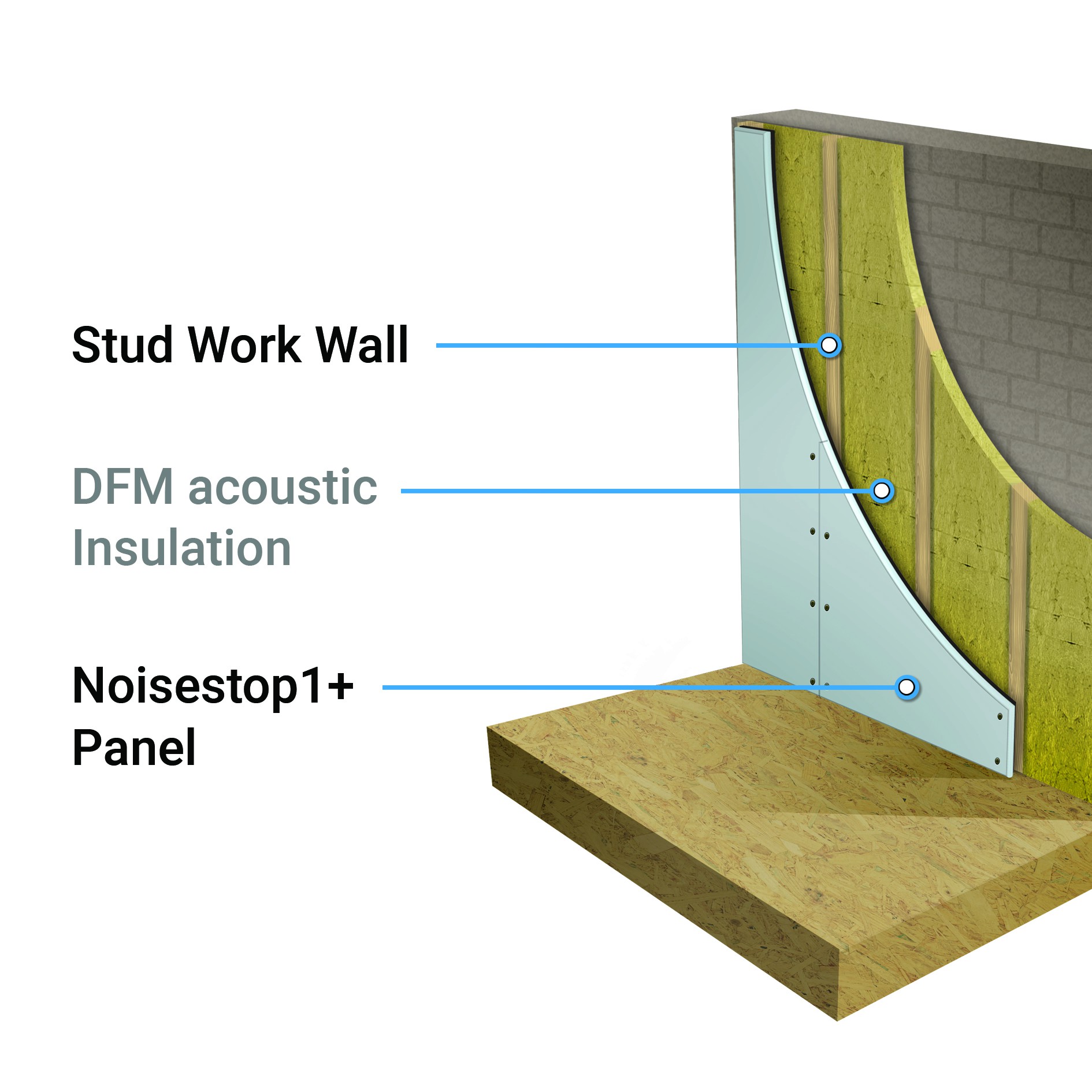 For enquiries please call 01423 339163, or send us a message via our contacts page.