Soundproofing Materials for Floors
Noisestop Systems provide a wide range of soundproofing materials for floors. Soundproof flooring materials, including acoustic sound insulation slabs used between floors. Acoustic underlays for carpets and solid floors. Soundproof flooring to comply with Building Regulations for separating floors. Please view our complete range of floor soundproofing products.
Soundproof flooring solutions using an acoustic underlay
Soundproof your floors using acoustic underlay mats to increase airborne and impact sound insulation. Acoustic soundproof underlays combine high mass membranes with acoustic foam. The membrane reduces airborne sound between floors. Soundproofing foam absorbs impact noises through the floor.
Our range of acoustic flooring mats includes Barrier Mats. A high-density sheet to block airborne sound. Reduce impact and airborne using a soundproof underlay mat. Noisestop supplies two varieties of acoustic underlay.  Noisestop F7 is suitable for use beneath a carpet. If you are using a harder floor finish, you should use the Noisestop F7+.
Acoustic insulation between floors to stop airborne sounds
One of the best soundproofing methods is to use sound insulation slabs between the floor joists. Acoustic insulation will increase the density of your floor, block sound mission through the cavity and stop sound reverberating. Infill the floor joists with DFM acoustic insulation slabs for optimum levels of floor sound insulation. Acoustic slabs will reduce airborne sound transfer between the floor.
DFM is available in a range of thicknesses and densities. For most flooring applications, we would recommend using 100mm of insulation. The density you use should normally range between 60kg/m³-100kg/m³, depending on your budget. The sound insulation returns diminish as you go higher in density; the 100kg/m³ is usually the highest density you would need to go.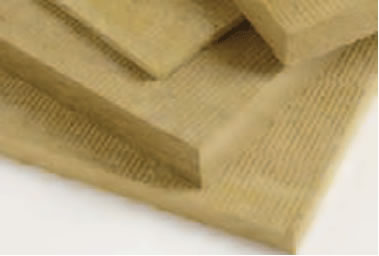 Soundproofing floors with a floating floor
Floating floors mean the flooring is not mechanically fixed using screws or nails. A floating floor can be laid over concrete and timber floors. This type of acoustic flooring is used in a wide variety of applications. Studios, domestic and commercial applications are some of the areas you can use a floating floor. Floating floors are widely used in new build and conversion projects to satisfy Building Regulations. Noisestop Systems range of acoustic floating floors includes Noisedeck 27, Noisedeck 32 and Noisedeck 36.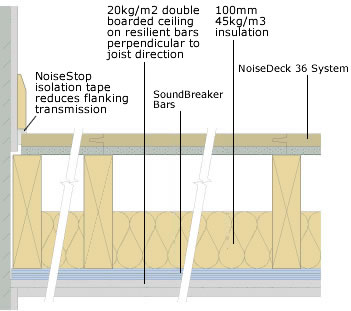 Floor soundproofing
Some of our more popular soundproof materials are below. Please view our complete range of floor soundproofing materials. If you require any more help take a look at our floor soundproofing guide. Alternatively, get in touch or give us a call 01423 339163.