In the UK approximately three quarters of the population have suffered with a noise related problem. Because our towns and cities are getting busier and busier we are becoming subjected to higher levels of noise, therefore the need to find a quiet space is becoming more important. One of the areas we should be able to escape the noise is our homes. The need and desire for domestic soundproofing has increased to combat unwanted noise. When you get through your front door you should be able to shut out the noisy world outside.
Unfortunately this is not the case or many of us, as the population grows we are living in more densely populated areas. In order to house an ever increasing population domestic housing is becoming smaller and building construction cheaper. Therefore the combination of more people and cheaper build costs is leading to more noise related issues in our homes.
This domestic soundproofing guide will show you how to soundproof your home, therefore reducing some of the most common noise complaints. If you live in a property that is joined to another property, flats, semi-detached or terraced houses you will have at some point heard noise from your next door neighbour. The issue of noisy neighbours is one of the most common reasons for domestic soundproofing.
You can also soundproof homes to stop external sound coming into your home. Noise from busy roads, or noisy industrial areas will generate unwanted noise in your home. Soundproofing will also reduce sound within your home, allowing you will be able to enjoy your home. Cinema rooms, home studios, white goods and noisy teenagers are all reasons why people might want to increase the sound insulation in there own homes. Noisestop Systems have been providing solutions for domestic soundproofing for over twenty years and have solutions to soundproof walls, floors and ceilings to restore peace and quiet in your home.
Domestic soundproofing for walls
Soundproofing walls in your home will stop unwanted sound from noisy neighbours or increase privacy in your own home. Check out some of the soundproof solutions we provide for wall soundproofing domestic properties including, thin wall soundproofing panels and complete party wall and stud wall kits.
Direct to wall soundproofing panels
One of the main domestic soundproofing requirements is to increase sound insulation of walls without compromising living space. Soundproof panels applied directly on to walls will reduce noise between rooms without loosing valuable living space.
Noisestop 2 and Noisestop 2+ Panels
Acoustic wall soundproofing kits
Wall soundproofing kits combine a variety of soundproof materials to reduce airborne and impact sounds. In certain domestic soundproofing situations higher levels of sound insulation is required, by using wall soundproofing kits you will block more noise. A combination of acoustic materials will block and absorb more sound than any individual product, therefore reducing more noise. Cinema rooms, home studios and instances of loud noisy neighbours would require better levels of soundproofing offered by acoustic wall soundproofing kits. Noisestop Systems provide a range of solutions that will offer high levels of domestic soundproofing.
Stud wall soundproofing kits
Stud walls in houses are usually light weight construction with very little sound insulation within the wall. This can lead to a lack of privacy in the home. By soundproofing stud walls you can reduce sound transfer between this type of wall. A combination of materials is the best way of soundproofing stud walls, Noisestop Systems provide three variations of stud wall soundproofing kits.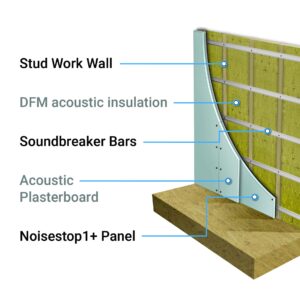 Domestic soundproofing for floors
Soundproof your floors to stop unwanted airborne and impact noise. The best way to stop impact sound is to use a resilient layer on the floor to absorb the impact, footfall or moving furniture. Using acoustic underlay mats is the most common method of floor soundproofing. Acoustic floor mats will reduce airborne sound through the floor reducing the sound of conversation and TV noise. Increase the sound insulation of timber floors with joists by using acoustic insulation between the floor joists. Using insulation in this way will give a better level of soundproofing to reduce airborne sounds.
Domestic soundproofing for ceilings
Use a combination of soundproof materials to soundproof ceilings for the best level of domestic soundproofing. Noisestop Systems solutions for ceilings combine the best soundproofing for your ceilings including acoustic insulation, soundbreaker bars and soundproof panels. Our most popular DIY soundproofing solutions for domestic soundproofing are Ceiling System 1 and Ceiling System 2.
Ceiling Soundproofing Kits