Soundproofing a Room – How to Soundproof a Room
Soundproofing – How to Soundproof a Room
This guide to soundproofing a room will show you the best way to soundproof a room. Whether you are looking to block the sound of a noisy neighbour, increase privacy in your own home or just trying to create a space where you can relax from the hustle and bustle of modern life. This how-to soundproof room guide will help you understand how to successfully soundproof a room to ensure quiet is restored.
What is Soundproofing?
The term soundproofing means making (a room or building) resistant to the passage of sound. When we talk about soundproofing and how to soundproof rooms, we look at how to stop sound from one part of the building from entering another.
How Does Soundproofing Work?
You will successfully soundproof a room by following these steps. We will show you how to achieve these steps to create your soundproof room.
Absorption – Using materials that are absorbent such as acoustic insulation, will increase the sound absorption. Sound is absorbed by the acoustic insulation and converted into heat.

Mass – Add mass to the separating area to block sound waves that would normally transfer between rooms built from lightweight materials.

Separation – Creating separation within the room's structure will reduce the sound passing from one structure to another.
Soundproof Your Room to Stop Airborne and Impact Noise
What type of sound are you trying to soundproof your room from? Sound can be divided into two different categories, impact and airborne. So what's the difference?
Airborne – This type of sound would be a conversation, TV's, radio and music.

Impact – This type of sound would be moving across a floor, walking or dragging furniture.
Different soundproofing methods are used to reduce impact and airborne sounds. Impact sound is often a problem between floors, The sound of footfall from the floor above going down to the floor below is the most common impact noise complaint. Soundproofing the floor is the best way to soundproof a room to stop impact sound transferring between floors.
Use materials that will absorb sound add mass, and create separation to block airborne sound. You can use slim soundproof panels to stop TV noise or conversation from transferring between rooms when you soundproof a room. For a more robust soundproof method, acoustic false wall solutions will offer higher levels of sound insulation.
How to Soundproof your Walls
The two main types of wall soundproofing solutions are soundproof panels and acoustic wall systems. Soundproof panels are a great way of reducing sound between rooms without losing valuable living space.
Slim soundproof panels will block low-medium levels of noise between rooms. The panels add mass and absorption to the wall; the result of installing these panels on your wall is you will block sounds such as background TV and conversation. They would also be considered a cheap way to soundproof a room because they are a DIY soundproofing solution for many.
When higher levels of soundproofing are required, use a combination of products to create an acoustic false wall. Combining soundproof materials to create a complete soundproofing system is the best way to soundproof walls in a room. If you are soundproofing your room to use as a home cinema, music studio, or you have excessively loud noisy neighbours, then combining acoustic insulation, soundproof panelling, and acoustic hangers will ensure the highest levels of sound insulation for your room.
Slim Direct to Wall Soundproofing Solution
Noisestop Acoustic Panel
Acoustic False Wall Solution
Wall System 1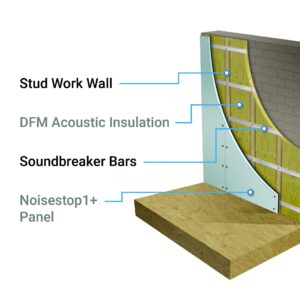 How to Soundproof your Ceilings
What are the main considerations when soundproofing your ceilings?
What is the existing ceiling construction? Is it a timber joist ceiling or a concrete ceiling?

Are you trying to stop impact and airborne noise?

Can you lower the ceiling height in your room or add soundproofing to the existing ceiling?
The majority of houses built in the UK have floor joists. Properties that have been converted to form flats would normally be of similar construction. Purpose-built flats and high rise buildings will have a solid separating structure of concrete and screed.
Once you establish the room's construction, you need to decide whether it is an impact or airborne sound problem you want to stop. Typically you would expect a separating floor constructed of concrete to have enough mass to block airborne sound. A more problematic noise complaint with concrete ceilings would be impacted sound. Properties that have floor joists could potentially suffer from both impact and airborne sound.
The amount of ceiling height you have in a room will determine whether or not you can install an independent ceiling system below your existing. It is beneficial when trying to stop impact sounds from above to create separation. Installing a new soundproof ceiling without connection to the original will reduce impact sound transfer from one room to another.
The best method of soundproofing the majority of ceilings in a home increases the mass, absorption and separation. Using acoustic insulation inside the ceiling joists to absorb airborne noise. Acoustic hangers attached to the underside of the ceiling joists will create separation in the ceiling structure, reducing the sound that would normally vibrate through the building. Adding high-density soundproof panels with mass loaded barriers further increase the density of the ceiling. When these types of products are combined, you will reduce airborne and impact sound through your ceilings.
Complete Soundproof Ceiling Solution
Ceiling System 2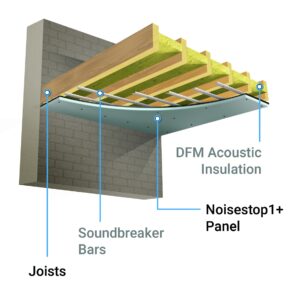 Best Soundproofing Product Combinations
Combining materials is the best way of soundproofing a room. We have identified the best materials to use to soundproof your room to ensure the highest level of soundproofing.
DFM Acoustic Insulation
Soundbreaker Bars
Noisestop 1+ Panel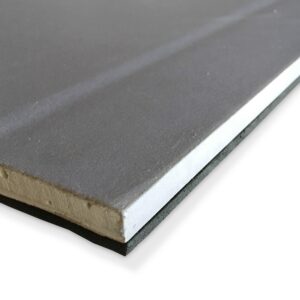 How to Soundproof your floors
The soundproofing of floors is similar to ceiling soundproofing. The solutions are determined by the construction and the type of sound you are trying to stop.
Has the floor got joists, or is it a concrete floor? Are you trying to reduce the impact or airborne noise? As with ceilings, if the floor has a concrete base, it would be safe to assume that airborne sounds would already be greatly reduced. Is it impact sound through the floor, movement across the floor, and footfall could still transfer between rooms.
Soundproofing Concrete Floors
Reduce the sound of impact noise through concrete floors by using a floating floor or an acoustic mat. Installation of these materials over a concrete floor will block the impact sound from transferring into the concrete.
Noisestop Isolation Mat
Noisedeck 27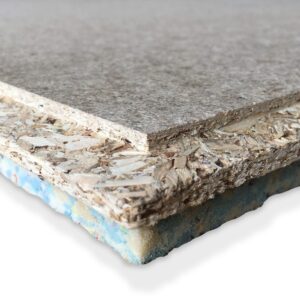 How to Soundproof Wooden Floors
The best method of soundproofing a wooden floor is to combine acoustic insulation with an acoustic underlay. Combining the sound insulation with an absorbent barrier over the floor will reduce airborne and impact sound transmission.
A resilient layer will reduce impact sound over the floor joists or the floorboards

Airborne sound will be reduced by increasing the mass of the area with high-density mats or acoustic insulation slabs between the joists
Soundproof Underlays
Noisestop F7
Noisestop Acoustic Underlay
Floating Floors and Direct to Joist Soundproof Flooring
Floating floor solutions can either be installed over an existing floor or as a direct to joist solution. This type of flooring is widely used in new build and conversion projects and music studio rooms. An alternative method of reducing impact sound through the floor is to isolate the floorboards from the joists. Isolation strips can be laid across the top of the joist to reduce sound transmission from the floor to the joist.
Isolate floor joists from the floorboards to reduce impact sound transfer between floors. Install Noisestop Isolation Strips over the joist before you lay the sub-floor.
Noisestop Isolation Strips
Room Soundproofing Accessories
Useful products that you should use alongside your main soundproofing solutions including, acoustic sealants, soundproof putty pads for electrical sockets and acoustic foams. Using these materials is a simple soundproofing upgrade that should be considered when you are soundproofing a room
Acoustic Putty Pads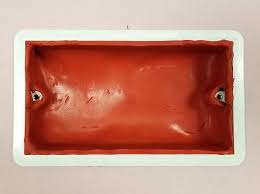 Acoustic Foam
Acoustic Sealant
If you have any questions regarding room soundproofing or any other soundproofing questions, please get in touch. You can call 01423 339163, or send us an enquiry, contact us.